Curated by GIRLS presents "A Nova Feminilidade" group show opening on March 8, 2022, at Thirdbase.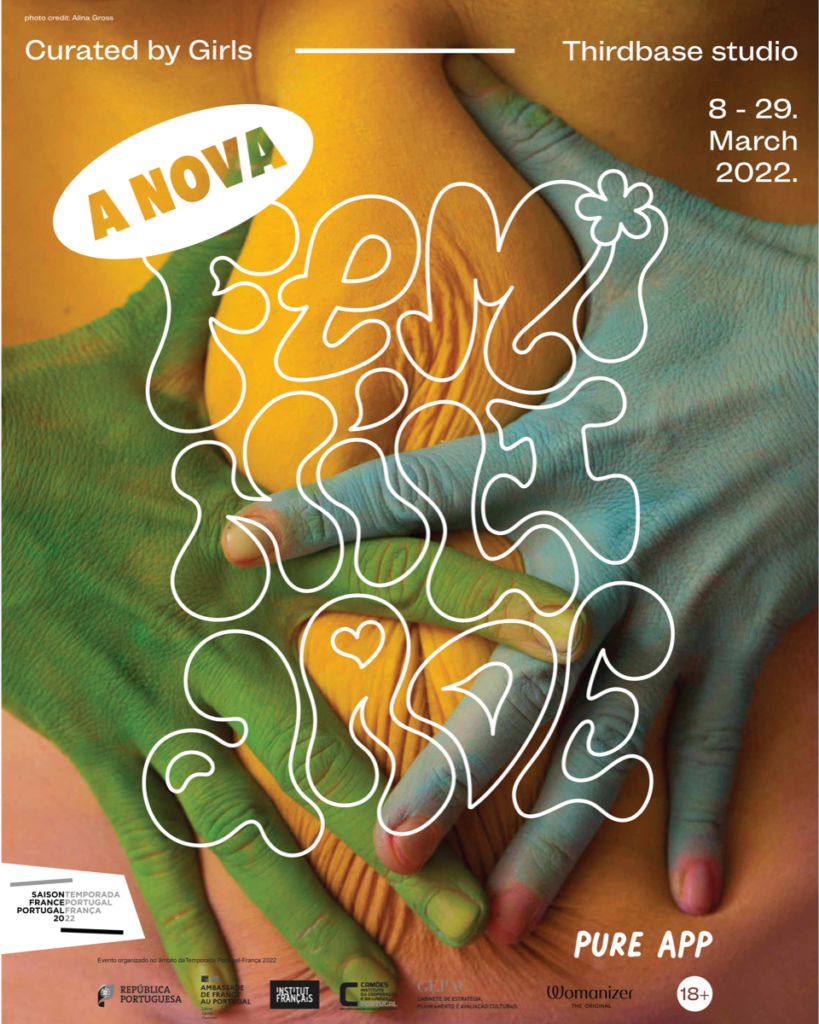 The group show "A Nova Feminilidade", will open its doors on March 8, 17h-21h, for International Women's Day, at Thirdbase in Lisbon, and willl run until March 29th 2022.
The exhibition will celebrate femininity in all its shapes and sizes through the works of 28 female-identifying artists + a special selection by the best dating app PURE.
The event is officially part of the Saison France-Portugal 2022 🇫🇷+🇵🇹
With goodies by Womanizer, Pure app, ENFIN, and wine by Vinhos Aparte. Come join us for a good time and a good drink 🍷
Artists: Alina Gross (@alina.gross), Amandine Kuhlmann (@amandinekuhlmann), Barbara Portailler (@barbara_tab_portailler), Blandine Pannequin (@blandinepannequin), Cara Trancada (@cara.trancada), CATY (@catxyyyy), Cécile André (@cecileandre_), Elena Antonini (@el.ena.antonini), Elsa Kostic (@kostic_c), Fanny Beckman (@feckman), Francisca Sousa (@techorpsen) Giulia Giu (@giuliagiu____), Helen Salomão (@helesalomao), Jazmin Calcarami (@jazmincalcarami), Júlia Da Costa (@ajuliadacosta), Laura Calado (@girl.gag), Lisette Marguerite (@setisdeadbaby), Lydia Metral (@lydiametral), Mabru Rodrigues (@mabrurodrigues), Mafalda Slam (@mafalda.slam), Marisa Kimmel (@marisakimmel), Rebecca Fontaine-Wolf (@rfwolf), Rebecca Dorothy (@rebeccadorothyx), Romy Alizee (@romixalizee), Sara Hini (@sara_hini), Shannon Sinclair (@shannonsinclairphoto), Tatiana Saavedra (@tats.aavedra), Virginie Martinez Serrano (@virginiemartinez_)

+ a special selection by @thepureapp
Anna Koroleva (@anyakokoroko) Claire Prouvost (@claire.prouvost) Nina Stadnik (@stadniknina) & Zlata Ulitina (@takoysyakoy_)
Thirdbase – Calçada Dom Gastão nº5A, Lisboa – Free entrance.