These artists are putting the spotlight on the vulva, celebrating it in every shape and form, to show its great diversity and that we're all unique and beautiful.
Over the years, women's bodies have been objectified, over-sexualised, used as a tool to sell anything and everything, yet the vulva is still object of taboo, censorship and misrepresentation. Many women – and vulva owners – experience shame about their anatomy and tend to feel detached from it. This creates a lot of confusion and anxiety surrounding our genitals and our sexuality. We forget to know ourselves. We forget our own pleasure. The artists showcased below are part of a movement opening the way for vulvas into cultural conversation.
VIKTORIA KRUG
With her project Vulvarium, Viktoria Krug creates exact anatomical copies of people's vulvas and turn them into statues, celebrating diversity so that every vulva owner can feel proud and beautiful.
By showing the diversity and the reality of how vulvas can look, Vulvarium and every woman participating are part of a rebellion against these depictions. It helps to make us all understand again that every vulva is normal and that every vulva is beautiful.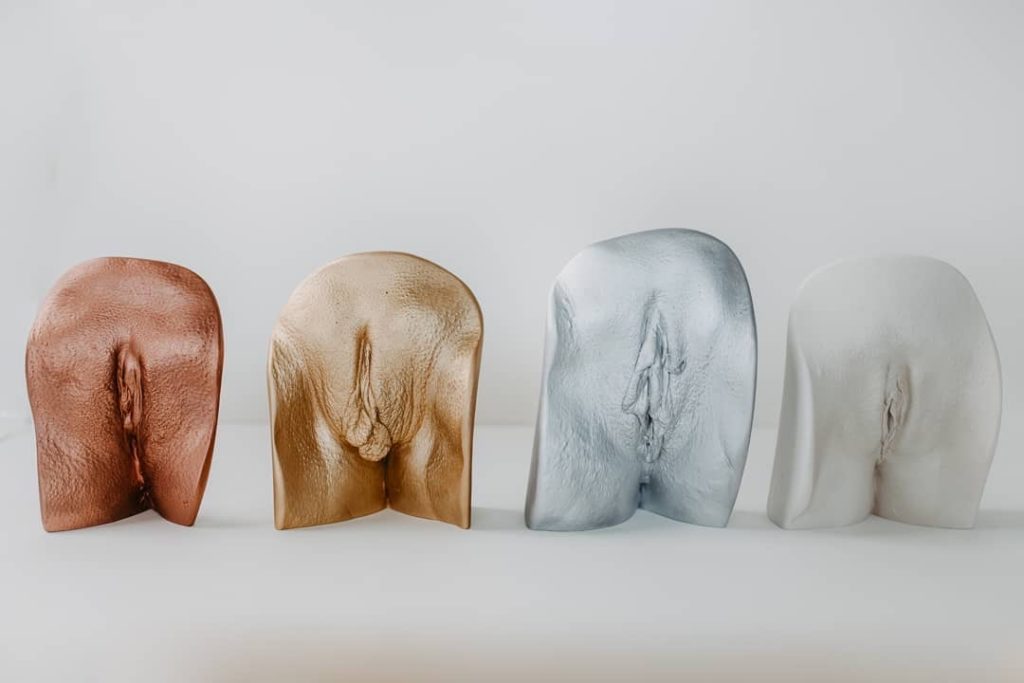 THE PRIMADONNA GALLERY
Raquel aka the Primadonna gallery, is an artist hailing from Lisbon, Portugal, who started creating digital art 2 years ago. Her illustrations usually depict intimate scenes, as an exploration of eroticism and desire, while reclaiming ownership of body and sexuality.
I always like to draw bodies because I find them very unique and that's what I like to represent in my art. I like to paint the vibe that I get from each body.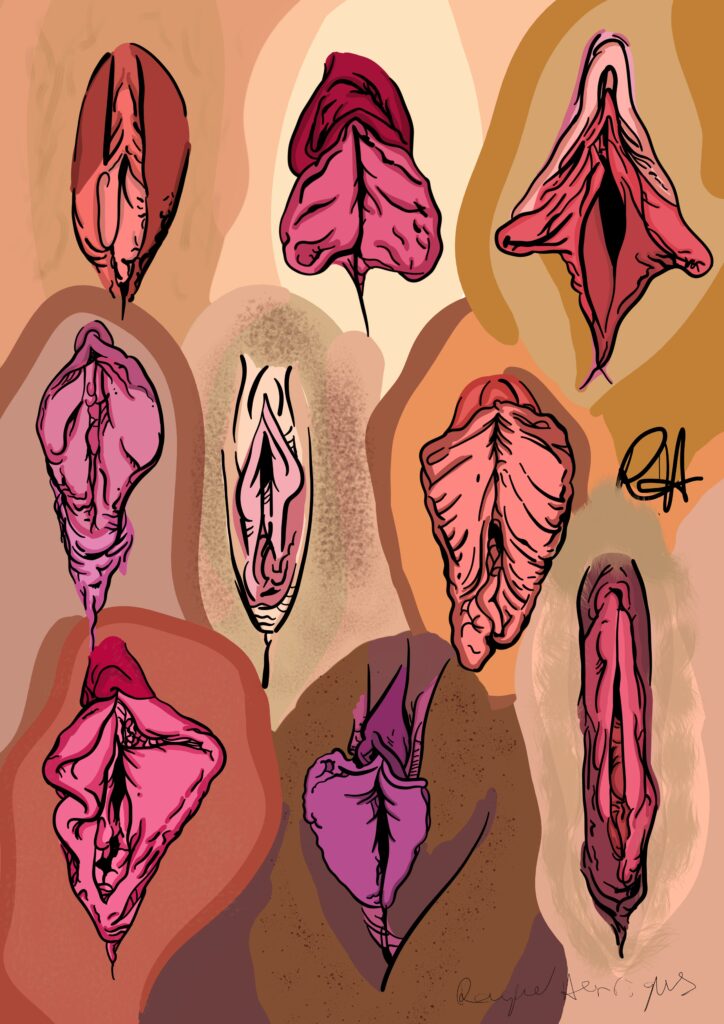 DAANTJE BONS
Daantje Bons is a fine art photographer, based in Utrecht, Netherlands, who uses photography and especially self-portraits as a way of exploring her sexuality and challenging societal perceptions about it. Always with a touch of humor and provocation, a combination which makes complicated subjects more accessible, her art is about photographing from the heart and not apologizing for it.
In my work I like to research my own experiences and thoughts. This way I am able to break ground rules and build other ideas and possibilities.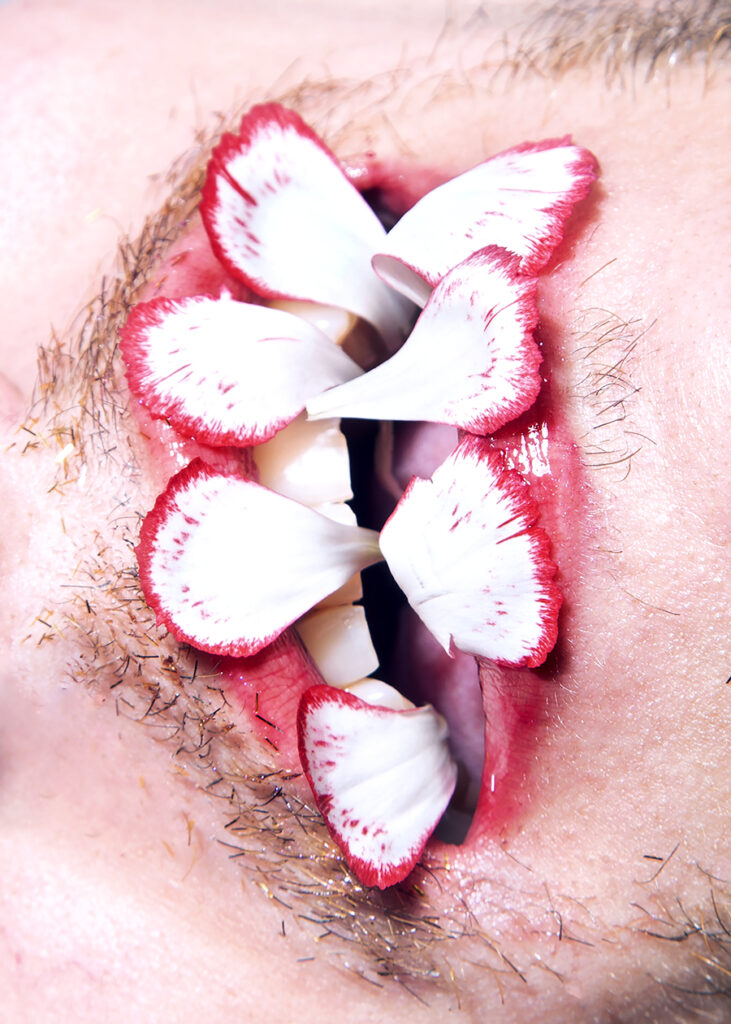 MICKALENE THOMAS
New York-based artist Mickalene Thomas is best known for her elaborate paintings composed of rhinestones, acrylic and enamel. She makes paintings, collages, photography, video, and installations that draw on art history and popular culture to create a contemporary vision of female sexuality, beauty, and power. Blurring the distinction between object and subject, concrete and abstract, real and imaginary, Thomas constructs complex portraits, landscapes, and interiors in order to examine how identity, gender, and sense-of-self are informed by the ways women (and "feminine" spaces) are represented in art and popular culture.
MARÍA PAPI
María Papi is an Argentinian artist, who lives in Buenos Aires, and works as an author, creative, film director and performer. In her short film "The Caracola" written, performed and directed by María Papi, the artist explores the movement of intrinsic relations between two presences that give rise to life: Water and Vulva. By exposing what is hidden, the harmony of femininity is restored.
IMOGEN SOPHIA
Art toy maker Imogen Sophia makes the world a little fluffier with her hand-made textile soft sculptures. Her 'Vulva' cushion invites you to explore and celebrate female anatomy as an immersive tactile experience that you can also use to decorate your sofa. From Mons Pubis to Labia Majora – Clitoris to hairy little Anus and everything in between – this anatomical decorative homeware is a soothing sensory cushion you can run your fingers across and explore in the comfort of your own home.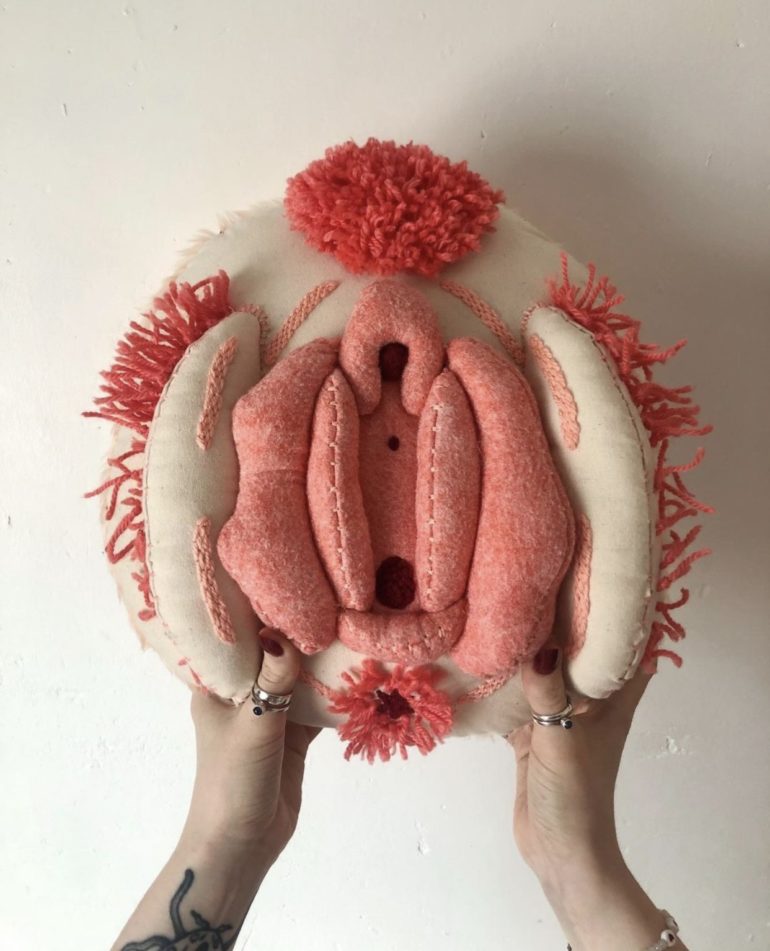 THE VULVA GALLERY
The Vulva Gallery is an educational platform created by Amsterdam-based illustrator Hilde Atalanta, centred around illustrated vulva portraits and personal stories – celebrating the vulva in all its diversity all around the world.
With The Vulva Gallery I aim to raise awareness around body diversity, to inspire and empower individuals by sharing personal stories, and to provide information on anatomy and sexual health.
ALINA GROSS
Alina Gross's work is often a combination of botanic life and body parts, where the flowers and the fruits are sexualized, to celebrate the beauty of the female body and show desire through the female gaze.
Women have been seen as birthing machines for many centuries. Female sexuality was a taboo. I think, female pleasure is not only important for reproduction and evolution, but also for an equal and satisfied life. With my work I want to create a space in which we can speak freely and openly about taboos and female sexuality.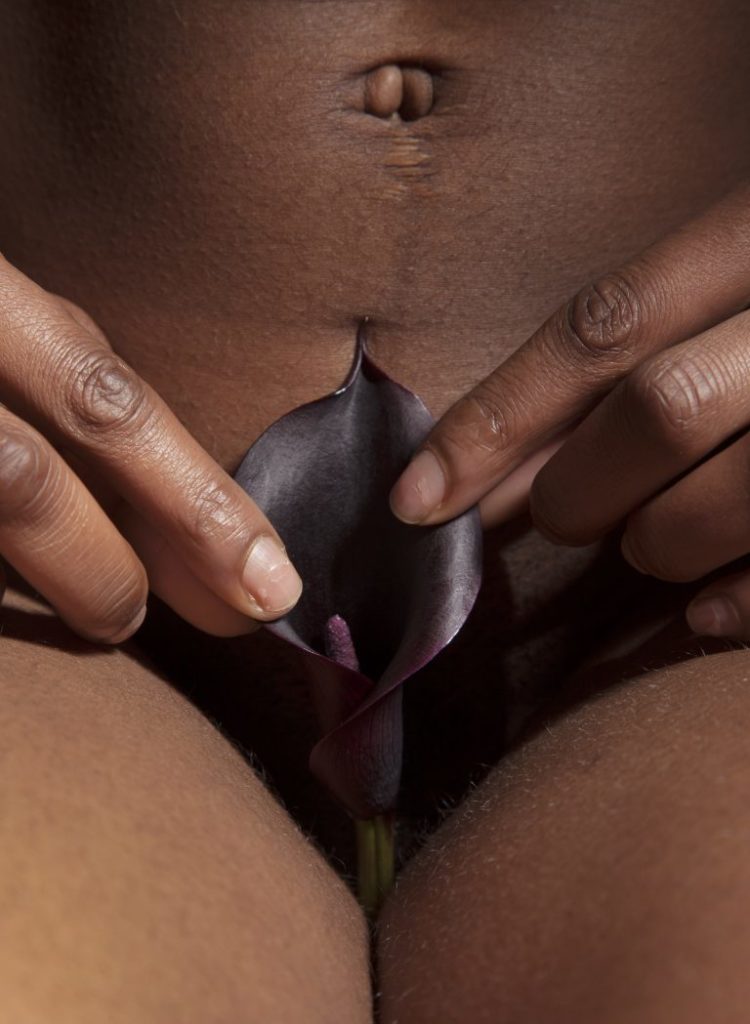 JACQUELINE SECOR
Jacqueline Secor is a mixed media artist inspired by primitive art, whose work honors each body in all of its individuality.
Best. Worst. Perfect. Gross. These are words that are too often used to describe female bodies. Women and girls face daily criticisms, not over the quality of their accomplishments or the content of their hearts, but of the bodies they were born in. Judgement comes in many forms and from many directions, but worst of all, women criticize themselves and their own bodies. It is my hope that in the face of such beauty, there will be no room left for comparison. Choosing to portray vulvae as integral parts of nature, with imagery of land and sea, was an instinctive choice for me. It's not just about trying to make vulvae look "pretty" but about showing vulvae as elements of the incredible natural world we are a part of.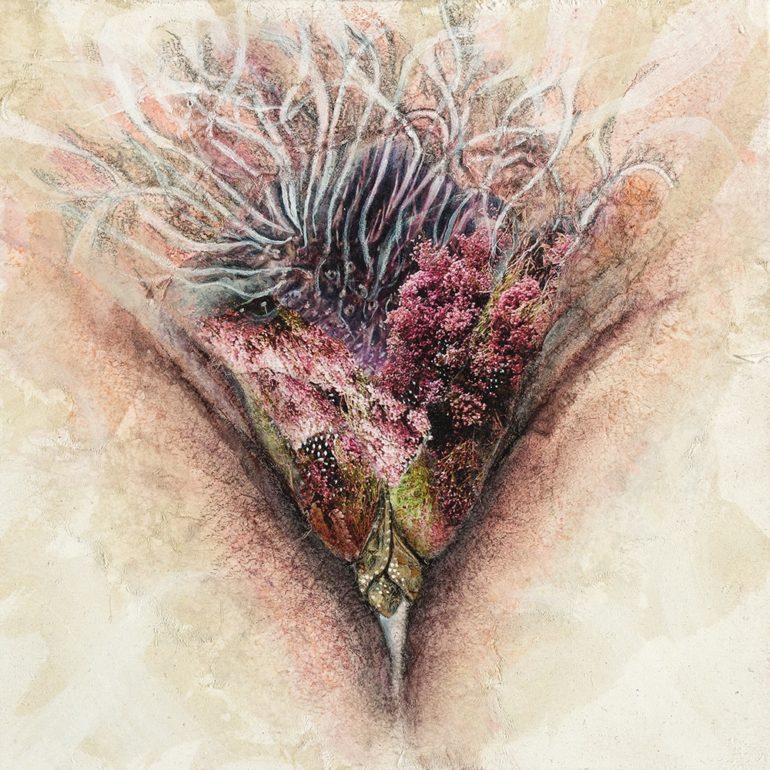 ATYPICAL STITCH
Sarah Leonard aka Atypical Stitch is a Manchester based embroidery artist. Mixing velvet, lace, crochet and pearls, she creates a stylized representation of our anatomy, focusing predominantly on vulva and uterus art. FASCINATING and EMPOWERING!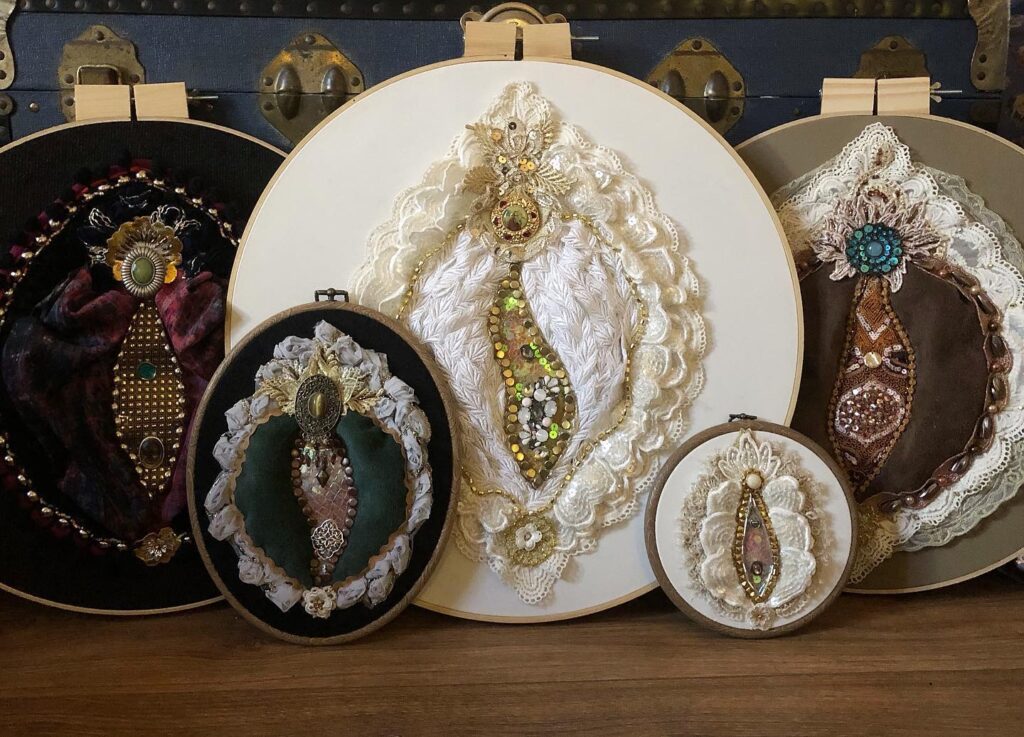 THE NEEDY FEMME
Jenny Elizabeth Thomas aka The Needy Femme is an illustrator based in Leeds, producing feminist and queer engaging content around women sexuality.
My work focuses on creating a voice for women and equality in this digital age. I specialise in fine line drawings which questions social stigmas around sexuality, lgbtqa community, minorities and female empowerment. My work aims to create an open dialogue for these topics, allowing more people to engage with it on a personal level.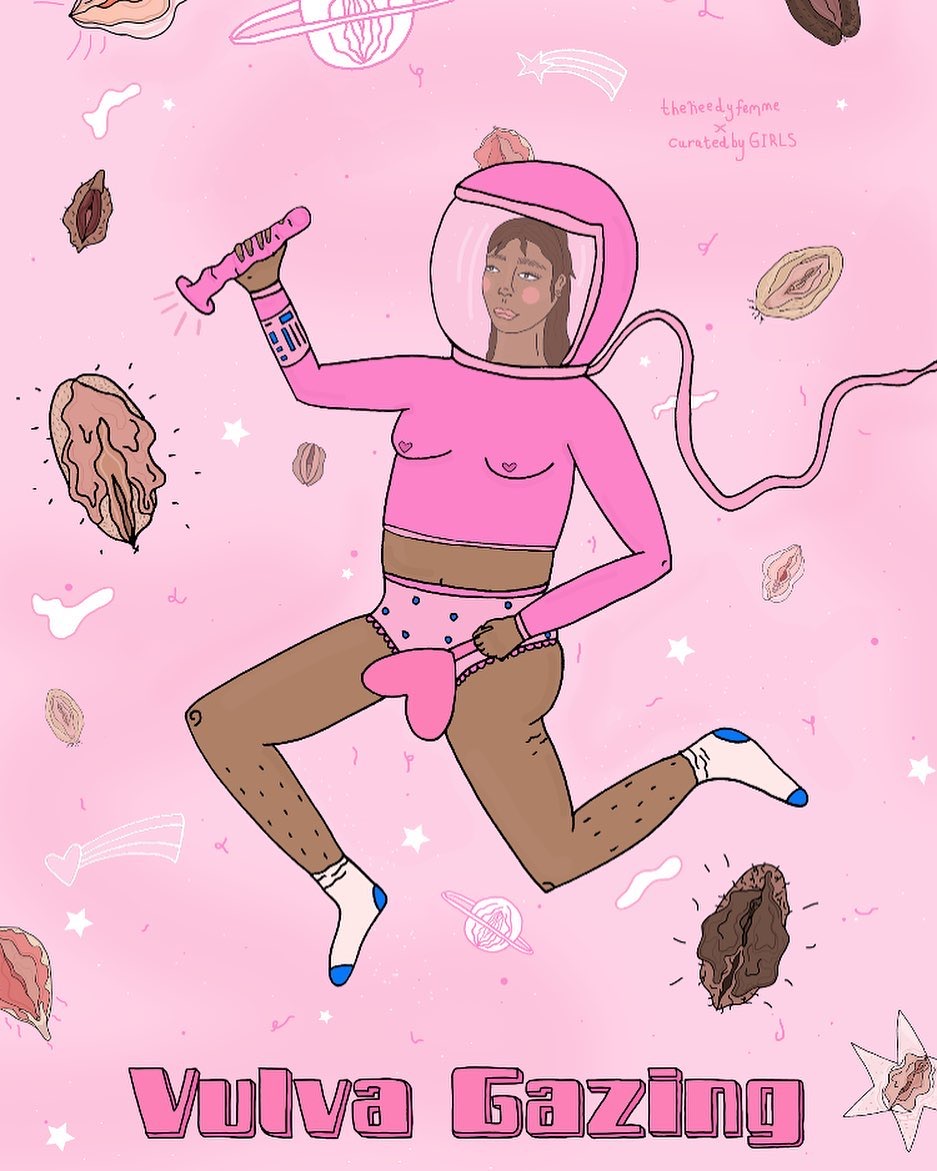 ONZE PORTRETTEN (OUR PORTRAITS)
Onze Portretten ("Our Portraits") is a project by Romy van der Burgh and Floortje van der Plas, which presents ten photographs of plaster vulva sculptures. These prints show the unique shape and personal characteristics of the vulva and is presented to you by its owner. The accompanying stories speak about the relationship between the vulva and the owner and how this relationship has been and still is influenced. They are stories that show the battle between ownership, freedom, shame and pleasure.