A new fashion series by Hélène Tchen & Marylou Burlion, about the character "Colombine" from the folklore stories linked to Pierrot And Arlequin in the commedia dell'arte.
Colombine is a complex character that, through the history of theater, was generally described as a humble servant, with a malicious, manipulative and insolent personnality (as she had many men in love with her). In the 18th century her character was even more controversial as her role was played without mask, but with makeup instead, which at the time was used by prostitutes.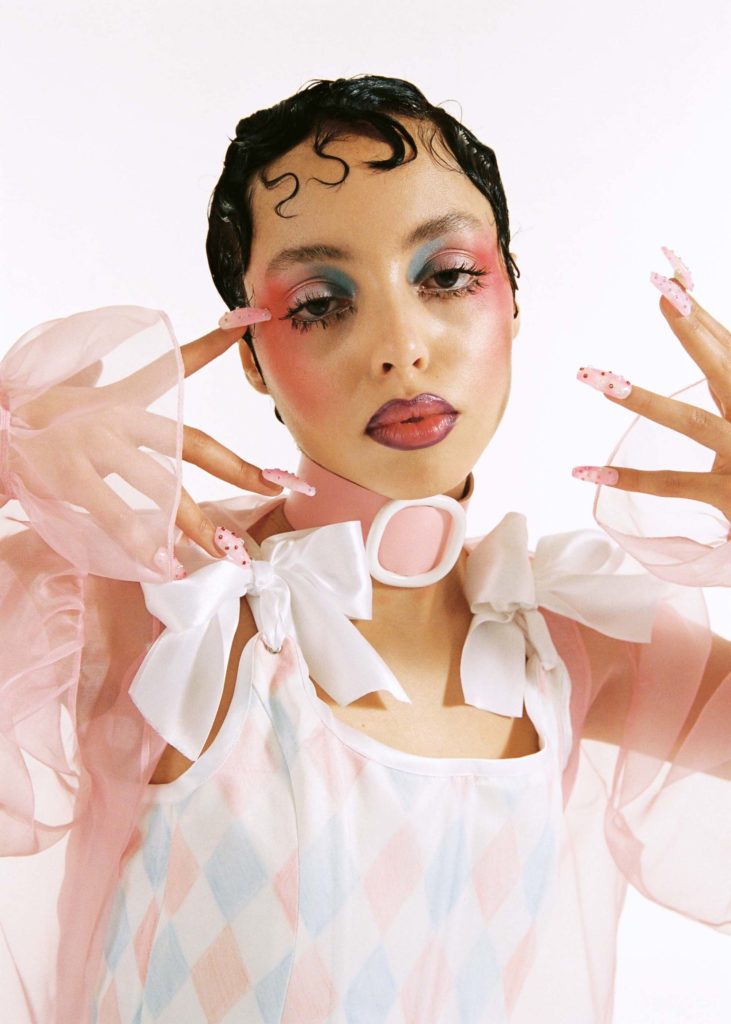 Corset and string, Rocococéane belle lurette ?
Jacket, Jolie Rozière
Pants, FLR
Choker, Kahina Sutra
Nails, feel.ing
Top and skirt, SLMJA
Earrings, Sister Morphine
Collar, Femme d'intérieur
Body, Gerbe
Socks, Belle lurette
Shoes, vintage Aalto
Nails, feel.ing
We wanted our story to transform the initial persona of Colombine into a more inclusive, self owned and dreamy character. The visual folklore of Colombine, Pierrot and Arlequin has a big influence today in fashion; Our aim was to bend over that thematic once again and get rid of the image history gave to Colombine, and instead show her as a free person that does and acts how she pleases.
Head piece & socks, Rocococéane belle lurette ?
Suit, Vintage Versage Jeans
Top, Metale
Boots, DR martens
Belt, SLMJA
Choker, Les inconnus
Nails, feel.ing
Jacket, Jolie Rozière
Belt, Femme d'intérieur
Pants, FLR
Body, vintage
Necklace, Metale
Necklace and bracelets, In gold we trust
Top and legging, Femme d'interieur
Harness, Les inconnus
Coat and shorts, Leftfig
Shoes, vintage Louis Vuitton
Suit, Vintage Missoni
« Belt », Femme d'intérieur
Body, vintage Playboy from Metal
Choker handmade by Studio Nodrama
string, Rocococéane belle lurette ?
Pants, FLR
Tattoo, Laure-Anne Tchen
Nails, feel.ing
Creative direction and production: @studio.nodrama
Photography: Hélène TCHEN @helenetchen
Model: Anna Marie @yolitalitchi
Styling: Maud Dupuy @maud.dupuy
Makeup: Rika Bitton @rika_bitton
Hair: Anita Bujoli @anitabujoli
Fashion Design: Océane Philippe @rocococeane
Photo assistant: Téné Niakate @tene_nkate
Prod assistant: Nuttanich Luengteerapap @undundund
Studio: Le petit oiseau va sortir @lpovs
Tatoo artist : Laure-Anne Tchen @laureanne.tchen