After a 2 year break that felt like The Neverending Story, with hope building up and turning into disappointment each time, finally, Lisbon-based festival NOS Alive came back. Oh meu deus! With this 14th edition, from July 6th – 9th, NOS Alive proved itself again as one of the world's best festivals, with more than 60 bands, a plethora of big headliners, and a brand new clubbing stage. Of course, Curated by GIRLS was there (duh) amongst the 200.000 ecstatic music aficionados, melomaniacs and revellers that came together to celebrate music during this 4 days getaway. As they say in Portugal, INCRÍVEL!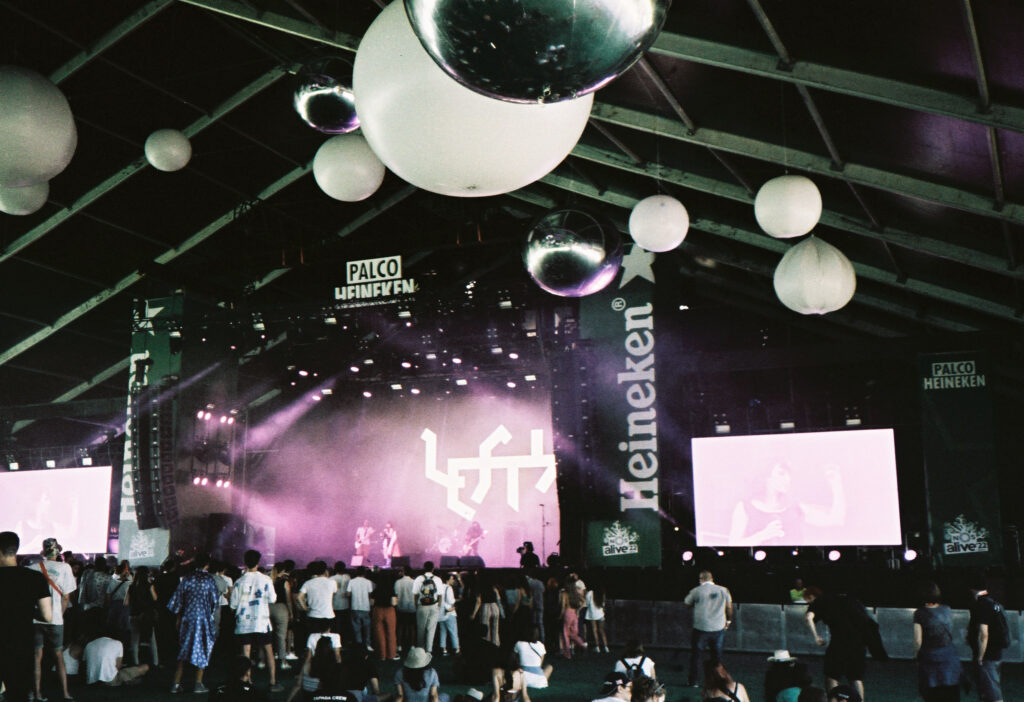 To celebrate their 14th edition, after the pandemic break, NOS Alive went on for 4 days long, which can be quite intense when you are a music lover like me, and want to catch almost every artist on the lineup. The festival came back with an impressive selection of headliners in various genres which got me excited – and wondering about the budget too – but mostly got me excited…. So while Haim, M.I.A, St. Vincent, Stromae, Phoebe Bridgers, and Metallica, were all on my priority list, I was also looking forward to checking the various stages and especially the brand new WTF Clubbing stage, for a good beat provided by some of the most prominent DJ talents across the globe. Of course NOS alive wouldn't be one of Portugal's greatest festivals, without a special FADO stage, celebrating the most important musical genre of Portuguese culture and tradition. EDP Fado Café, a hidden gem located in a constructed decor replica of a lisbon's street, showcased some of the best aching voices of the fado scene – for the pleasure of festival-goers in need of experiencing the sonority of Lisbon, and its melancholic feel.
With a lot to explore I was ready for my first NOS Alive journey, and here's how it went.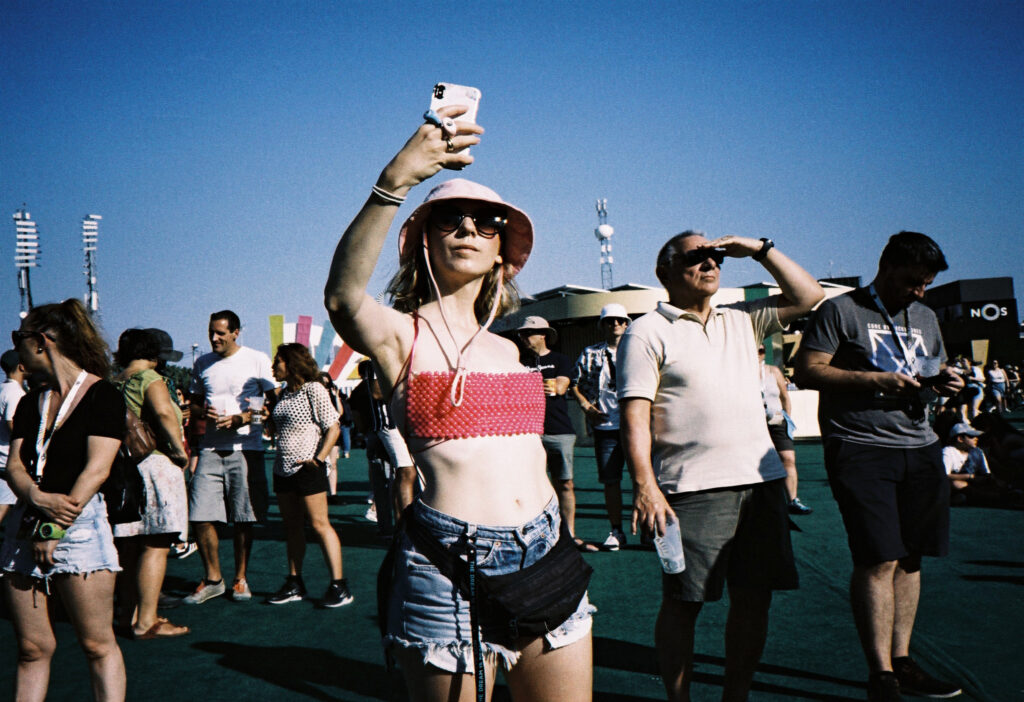 DAY 1:
My first impression, upon arrival on the banks of the glorious Algés river, was overwhelming joy. It looked BE-YOU-TIFUL! And with their motto "the dream is alive" in our face everywhere, we couldn't NOT feel like a dreamer amongst other dreamers, living the dream…you know…Oh, and the irresistible scent of all the good taste of Lisbon (Bacalhau, Pasteis de Nata, Croquetas, Bifanas…) immediately put me in a GOOD mood. Like a kid on the first day of holidays, I arrived on the wide astroturf in Passeio Marítimo de Oeiras, and so did the lisbon heatwave apparently. EPAAA! The temperature did reach 40 degrees in the shade, but I guess the ocean breeze always kicking in and a fresh glass of vinho verde made it totally fine! Plus, the stages were pretty close to each other, and the bands were playing quite long sets so we could chill – get our snacks + drinks – in between each show without rushing to the next act…No sweat !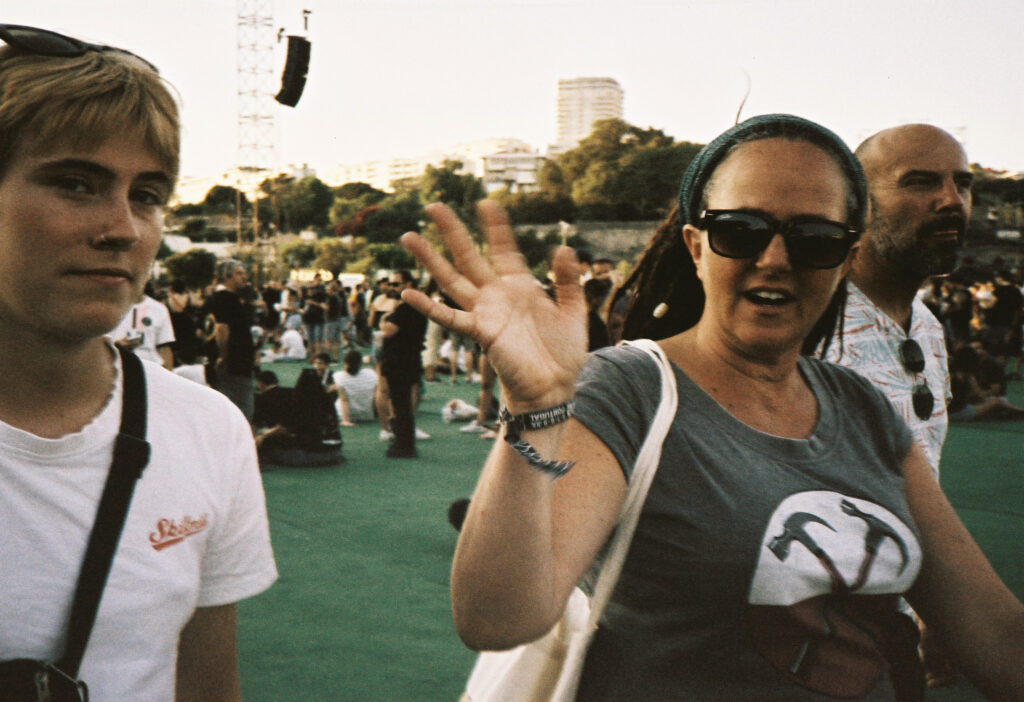 So, here we – 45k music lovers – were on this first festival day, on a late afternoon, ready to rumble. Brazilian artist Mallu Magalhães opened the main stage and it was simply delightful. Followed by a good dose of musical discoveries I highly recommend for you to check and follow: The charismatic Leonor Andrade, singer of pop rock quartet Lefty, took the Heineken tent stage with a ferocious energy! Definitely ones-to-watch! Later I found myself stamping my feet to the funky beats of Teresa de Sousa, aka Da Chick on the WTF stage. Muito bom !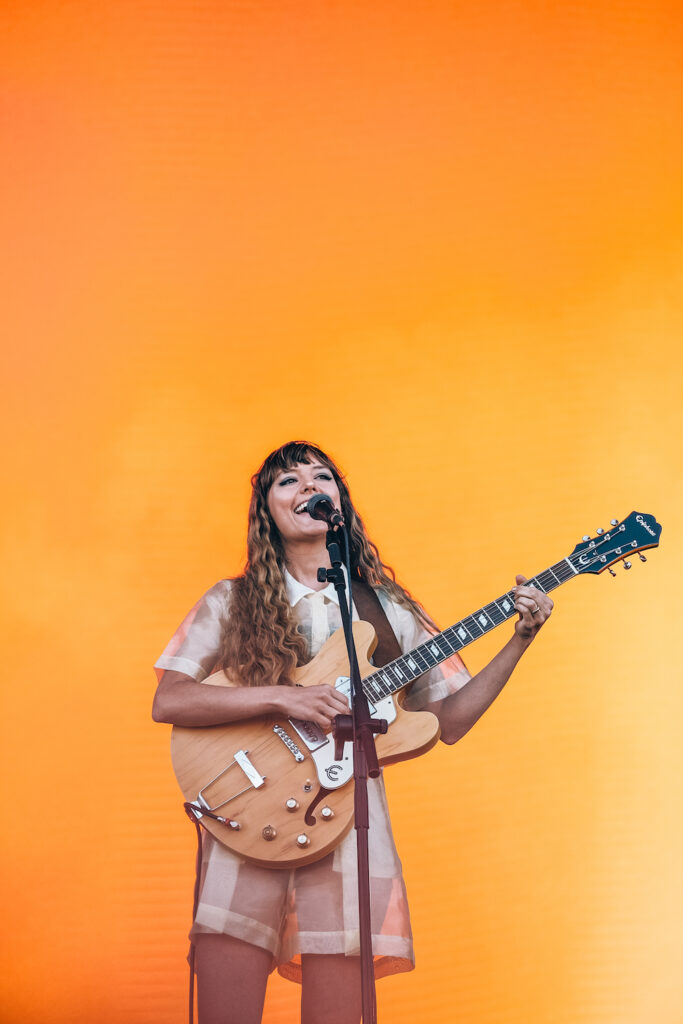 But that first night I was particularly stoked to watch STROMAE; the Belgian artist shared his unique creative world at NOS Alive, and you could tell he was truly happy to be here, which was refreshing, especially after The Strokes, who didn't seem to bother…No hits on their setlist, no Last Niiiight sing along…nope. Instead Julian Casablancas did try a few jokes that didn't quite land…But, oh well, I saw the Strokes! Back to Stromae and his outstanding performance; he wasn't shy to perform some of his massive hits like Papaoutai, Formidable, and ended with Alors on Danse which came to a climax, with the portuguese crowd singing along every word in perfect French. Oh la la, quite a magic first day NOS Alive!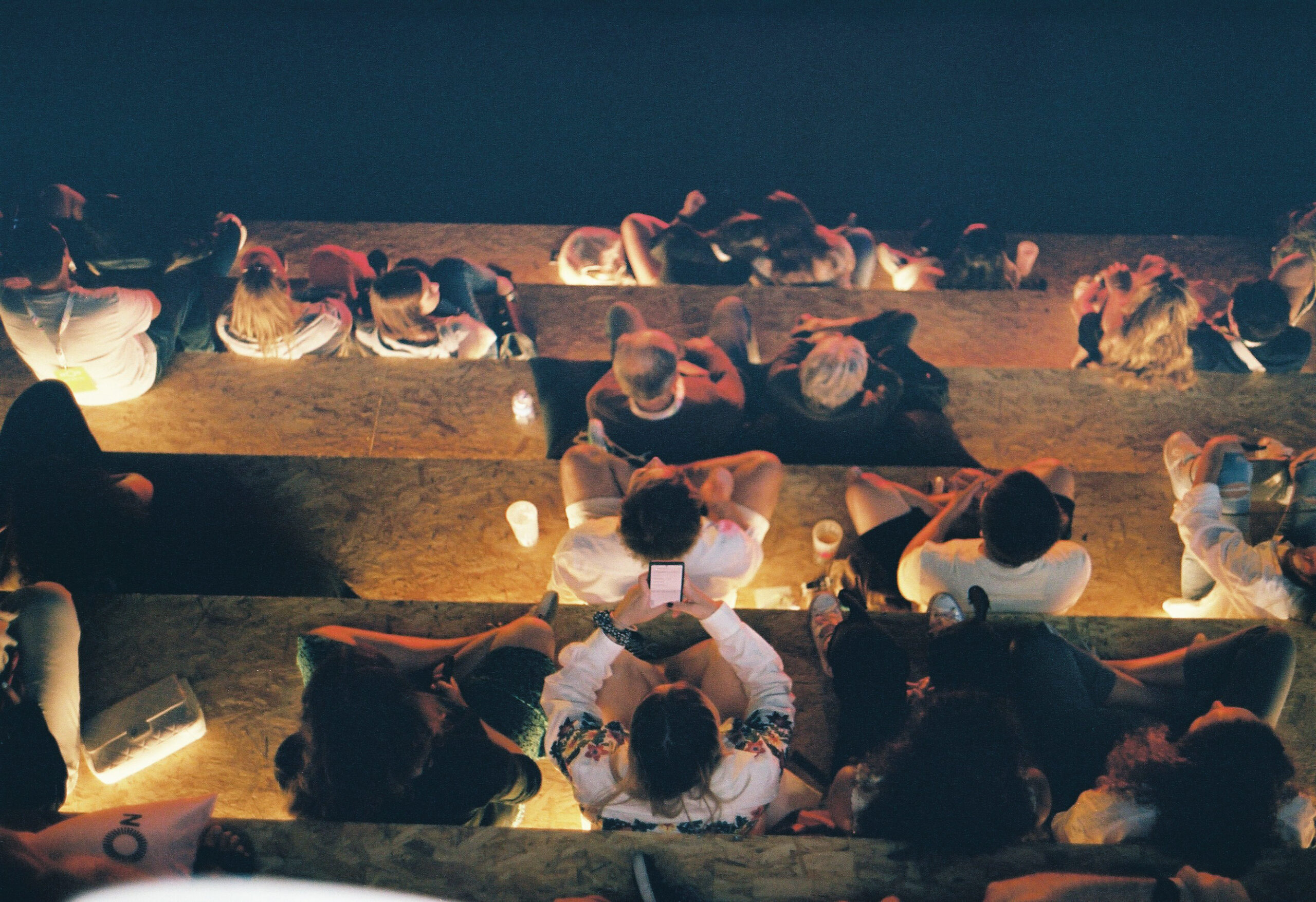 DAY 2:
The following day was really about vocal prowess i guess! 3 incredible singers succeeded each other on the main stage. I was blown away by American-British singer-songwriter Celeste who unleashed her music with great poise. At one point she went down the stage for a more intimate feel, to perform 2 new songs exclusively for us. Enchanting!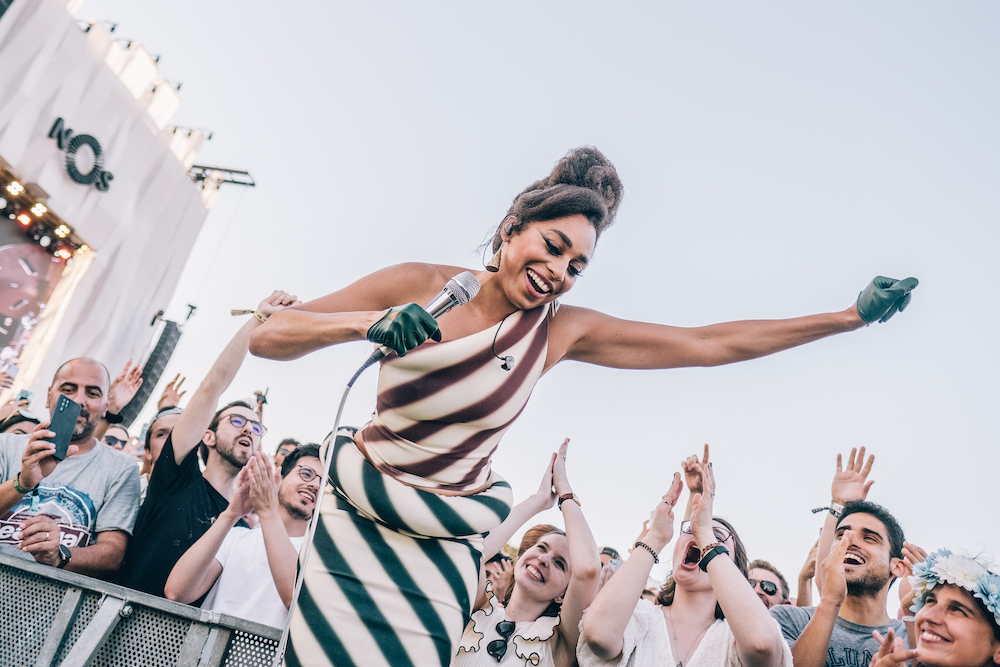 Followed by Jorja Smith, at golden hour, who, in spite of a few technical issues, light up the stage with a voice that was the one of a true goddess. Perfect setting while sipping a fresh glass of wine – for hydratation purpose bien sûr ;p
Headlining was the one and only Florence and the Machine, who took Nos Alive like a storm, with her breathtaking vocal power and infectious songs. Dancing bare foot in a red laced dress, made the performance even more ethereal.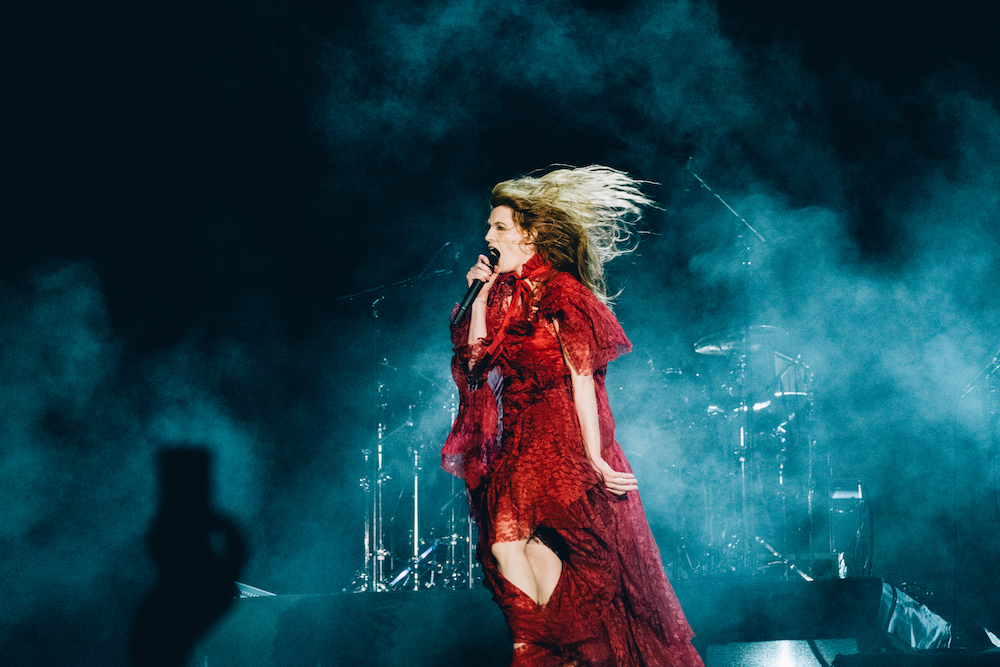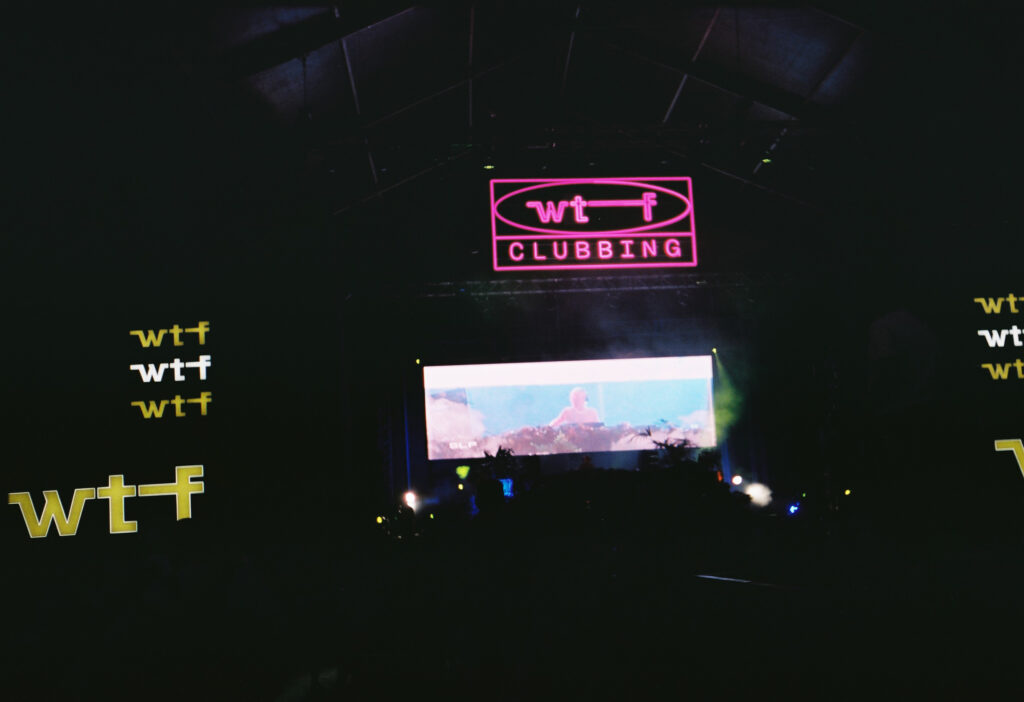 DAY 3:
Friday was a "tell me Metallica is playing tonight without telling me" situation. I didn't get the dress code memo, but apparently everyone else did! And For the pleasure of their hardcore fans, the parents of thrash metal performed on the main stage for, not one, but two (very) (generous) hours… I was curious to see the monsters, but my eyes were mostly stuck on the impressive fireworks and pyrotechnic, cause "nothing else matters"ed to me…(sorry, couldn't resist).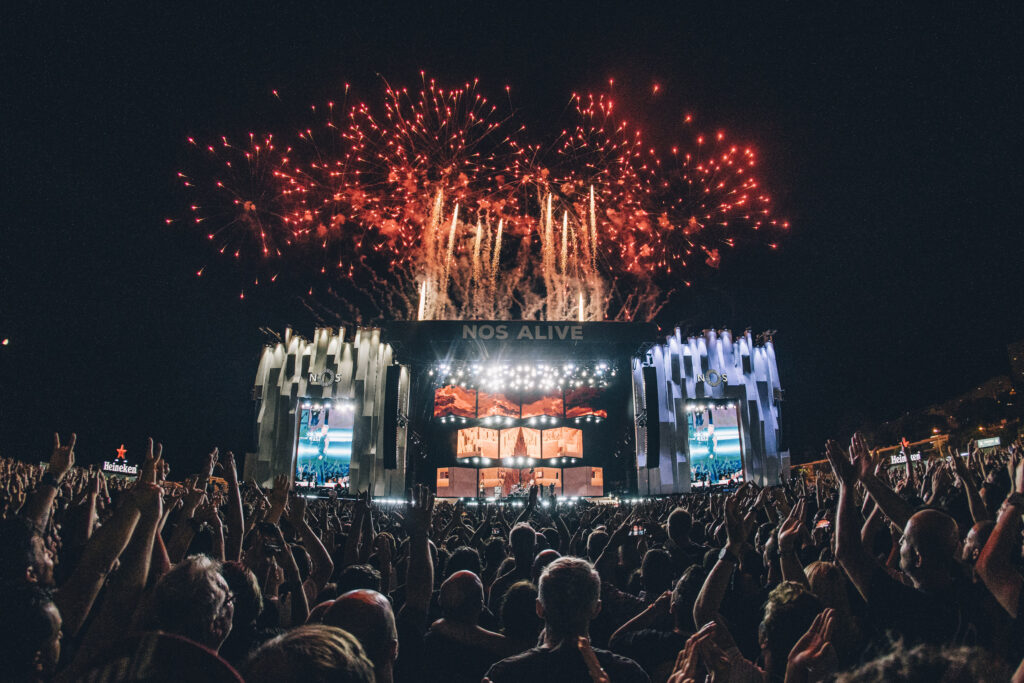 To be honest the Tent was where i was at most of the night, as it had a boiling program: Annie clark, more widely known as St. Vincent, delivered an electrifying performance, as part of her Daddy's Home Tour, with her band and backup singers – who seemed to come straight from the 70s. Going hard on the wah-wah pedals and holding the note (pretty majestically well), the diva also took the opportunity to address to the US supreme court about the "basic fucking human rights" we all deserve. Louder Annie, for the people in the back!
My night ended perfectly with an explosive show by the divine M.I.A ! Beat after beat, hit after hit, along with a hypnotising visual show and an excellent pair of dancers, she brought the party to Nos Alive. Like. A. Queen.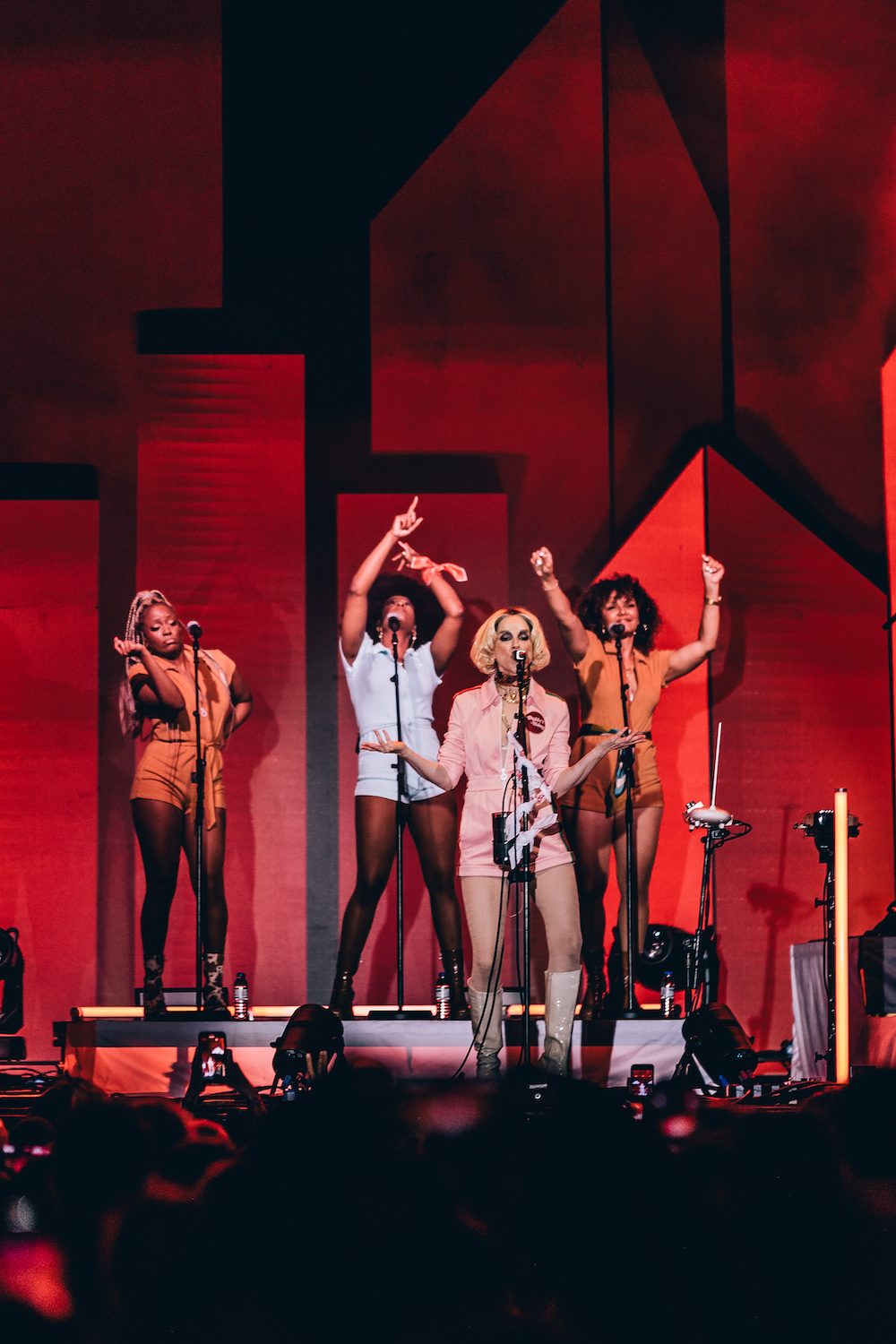 DAY 4:
The last day was about emotions and intensity, with a hell of a lineup including Imagine Dragons, Two Door Cinema Club, Caribou, Parcels, Phoebe Bridgers…
In spite of Lisbon's searing heat, Canadian indie-rock band Mother Mother performed joyfully on the main stage, with on their menu: catchy tunes, dancey beats and tight vocal harmonies. After a much needed H2O refill, I was ready for the "Women in Music": HAIM. The sister trio brought bold energy on the stage where they had hanged big-sized chorizos…girrrrrl power! As lead vocalist Danielle went from guitar to drums, like nobody's business, Este gave us some of her wild facial expressions, but not only…She also called her previous (tinder) date on the phone, and tried looking for a potential next one in the audience. In between jokes, the sisters rocked it – and watching the charismatic youngest sister Alana felt a bit like watching 'Licorice Pizza' again!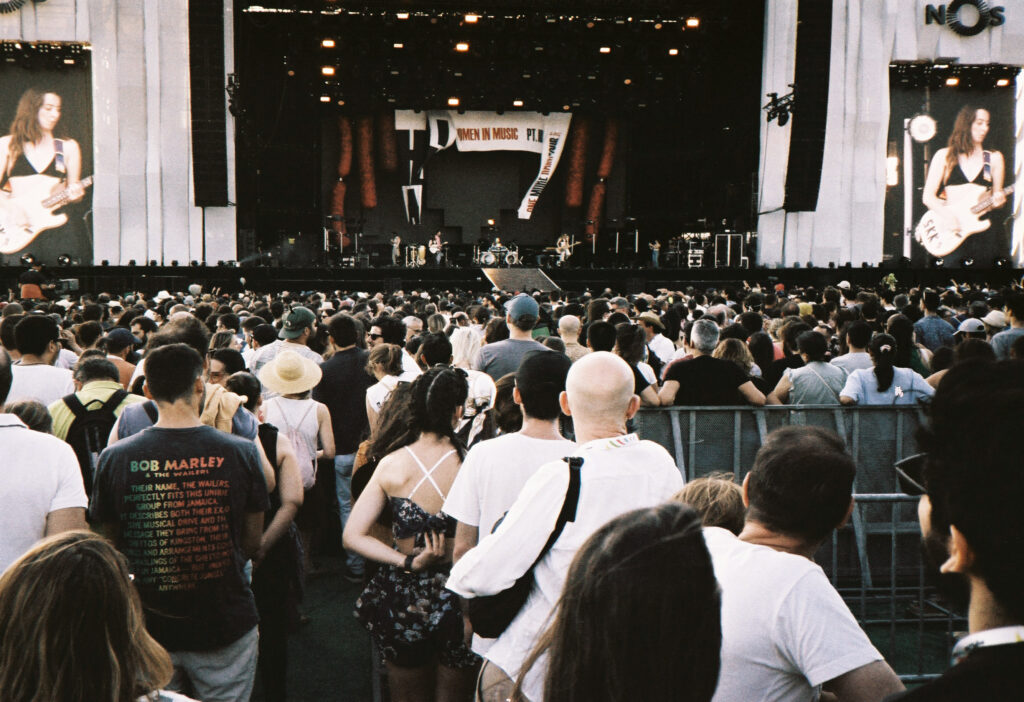 Saturday was marked by the most awaited reunion of the Portuguese music scene: hip hop/rock band from Almada DA Weasel, who made their comeback performance at NOS Alive, on that sold out day, 12 years after the band officially ended. I didn't know what to expect from the local "estreias" but their presence provoked a big wave of excitement across a multi-generational audience. We could sense their music had filled Portuguese homes for a while, and that evening they brought together these Fans, a mix of youngsters, teenagers and parents. In our particularly troubled times, it is so heartwarming to see people from all backgrounds celebrate together. Music has this magical power on our souls.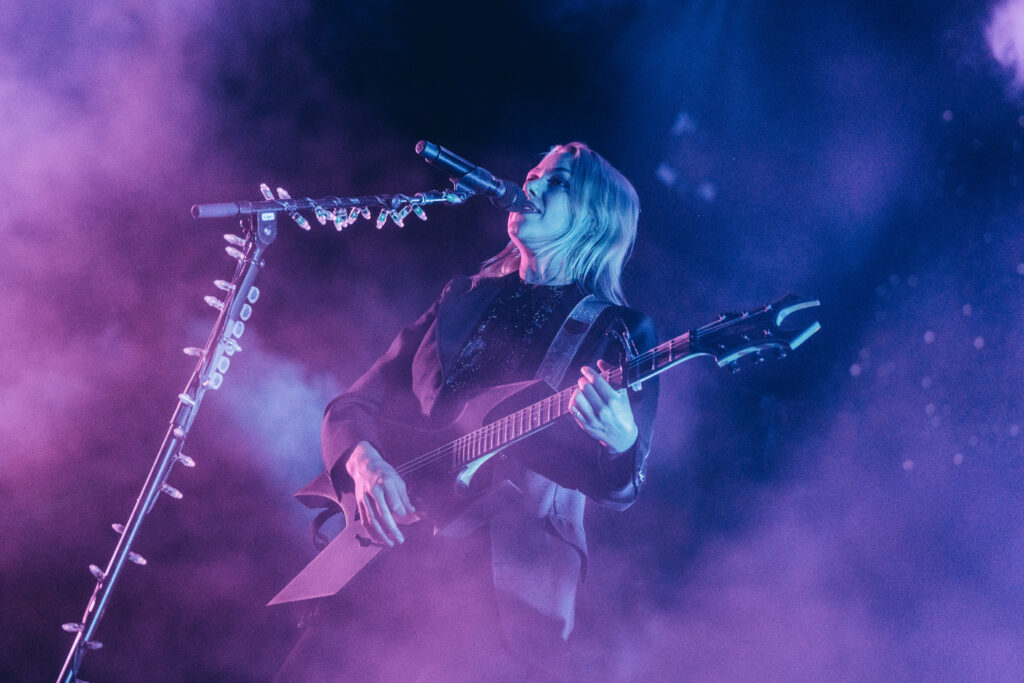 Afterwards we followed the crowd to witness the Phoebe Bridgers phenomenon. The Californian singer-songwriter had her fans ready for her, probably an hour before she stepped foot on stage, already screaming her name non-stop…As she got there, it just got more intense obviously. Picture this: An intimate moment under the tent, with the emotional voice of Phoebe floating across, always supported by the echo of her passionate fans singing every word, and reacting to her each and every move. Impressive.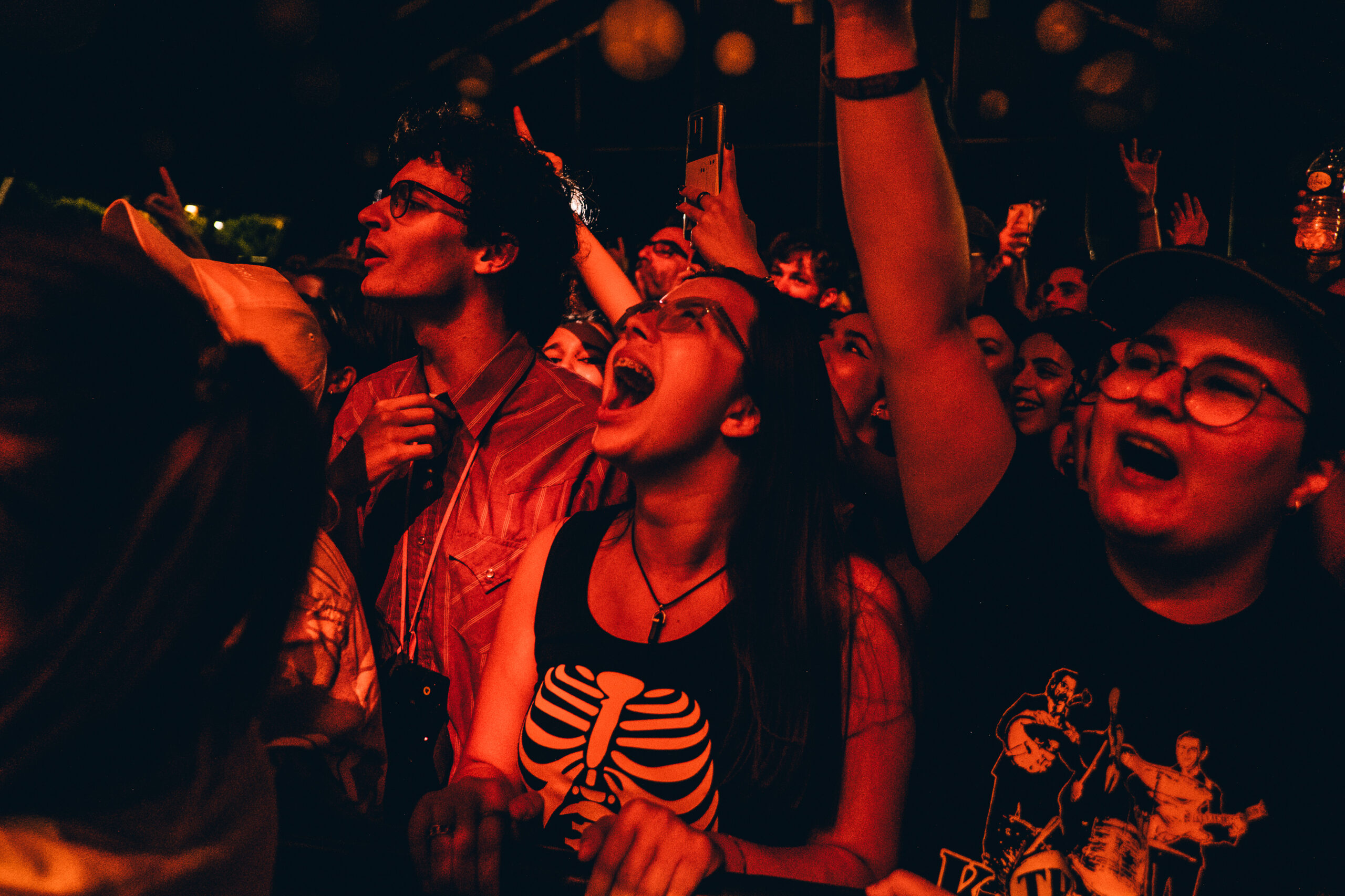 We ended our NOS Alive journey the best way possible with the Australians Parcels, who surprisingly turned their cute pop songs into an ongoing euphorisant electronic set, that brought the Heineken stage on fire. They couldn't stop playing, and we couldn't get enough! Incredible musicians with a beautiful energy! That's when you understand that music is about giving.
Thank you NOS Alive for having us! You gave us thrills, chills, and everything we needed during 4 – quite intense- days, but when over, we wish it didn't stop.
OBRIGADA e até ja!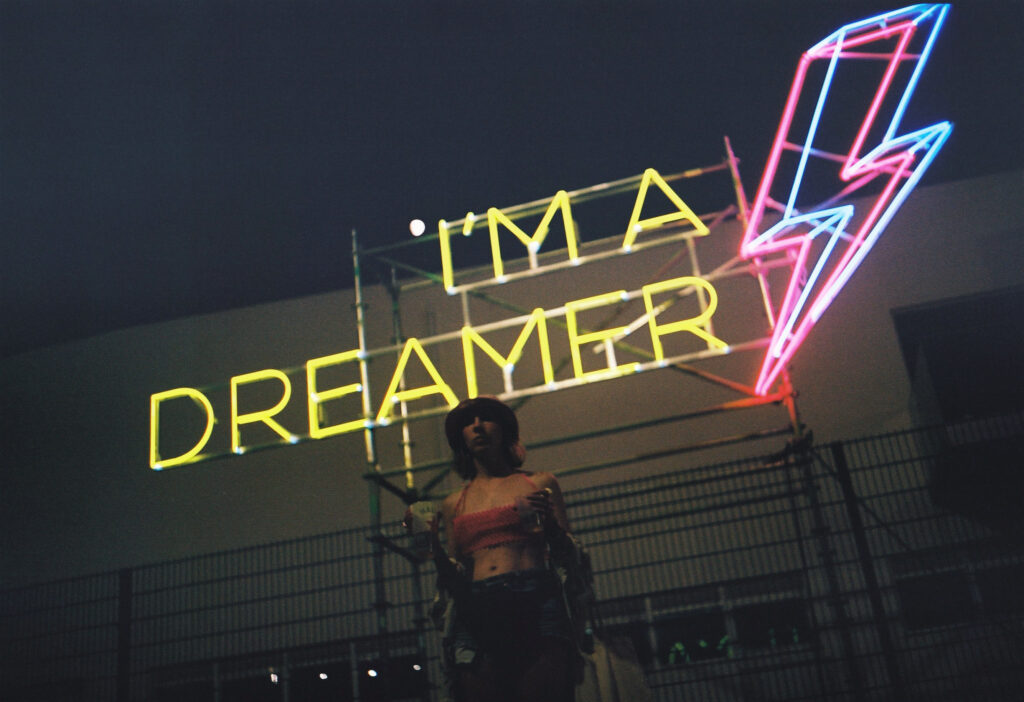 NOS Alive will be back on 6 • 7 • 8 JUL 2023