A visual narrative by Viktorsha Uliyanova
Viktorsha Uliyanova is a Russian photographer focusing predominantly on documentary and portraiture. Her work often explores post-Soviet world, isolationism, and the interpersonal complexities between the East and the West. Drawing from her background in poetry, Uliyanova's images are often presented as visual narratives and explore the unnoticed fleeting moments.
For their collaborative project "The Veil Between", photographer Viktorsha Uliyanova joins artist Hannah Katarina Edwards in presenting a non-linear narrative exploring the womxn's + queer gaze, duality of time, memories and the possibility of transcending the viewer into a dream scape.
Edwards' work investigates light, reflection and movement as forms of language. The silver adornments draw upon parallels between the natural world and the cosmos, fantasy and reality and the dreamer within the dream. While the veil first appears as a playful ornament, it serves as a complex element of identity, growth, and visibility. The unraveling of subjects from the veil asserts autonomy and steps away from the rigidity of binaries and time. The series invites the audience to observe the balance of intimacy between the artists, wearer and the witness and to invoke the thin line between present moment and surreality.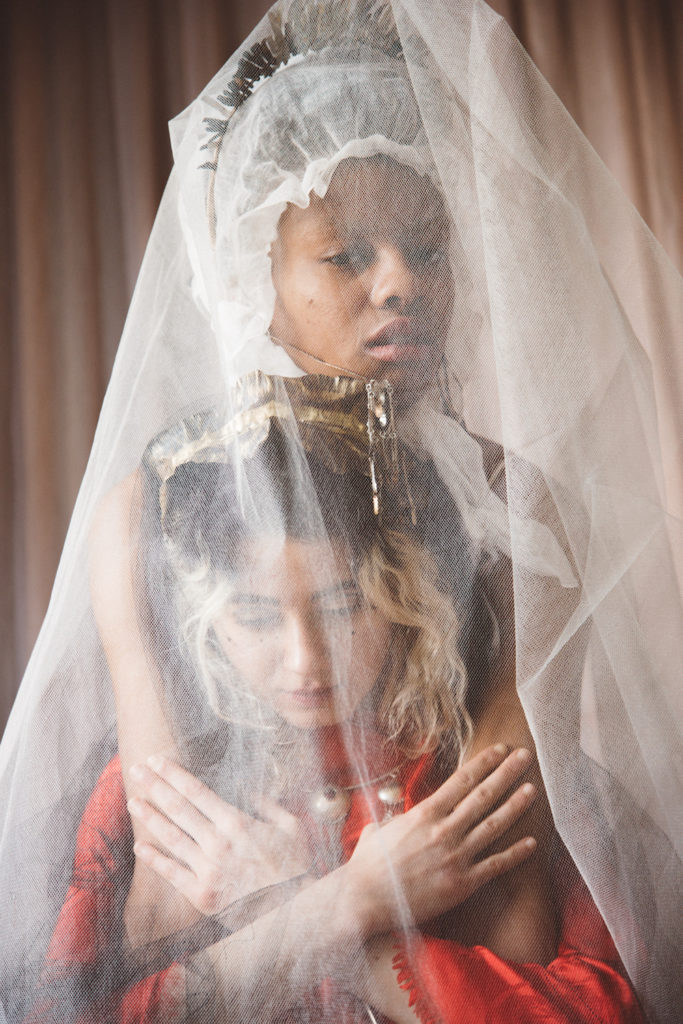 Art Direction: Hanna Katarina Edwards and Viktorsha Uliyanova
Photography: Viktorsha Uliyanova www.viktorsha.com | IG: @viktorshaa
Jewelry : Hanna Katarina Edwards www.hannakatarina.com | IG: @hannakatarinaalexandra
Clothing: Narnia Vintage www.narniavintage.com | @narnia_vintage
Production + Makeup: Monique Garofolo | @clothofgoldvintage
Costume Details: Ella Goodine-Richards www.leonide.design | @_ellagoodine
Muses: Sabine Holler @sabineholler – Nia Nottage @ s_t_e_p_h_s__