This season, because of the pandemic restrictions, MODALISBOA went 100% digital.
Another challenge to overcome for organizers and designers. A show with no possibility of eye contact with an audience must have been quite a challenging experience. As much as we do love the energy infused into an IRL runway show, we were glad to see our favorite Portuguese fashion week not giving up and managing to make it happen, in a different form, but still very creative. It was a very inspiring edition focusing on "community"; putting forward the designers that made Modalisboa grow on the fashion map, and that made it the "mother house" it is today, in Portugal. With as always a thrilling program of talks, workshops, and conversations with actors of change in the fashion sector. And of course we were spoiled with a large number of shows where the designers could work with a different approach, letting their personality and creativity flow in a more controlled way.
We wanted to know more about the whole experience and had a great conversation with 3 designers we particularly wanted to highlight: Meet the inspiring women behind BÉHEN, CONSTANÇA ENTRUDO, and HIBU!
@lisboafashionweek – lisboafashionweek.modalisboa.pt
BÉHEN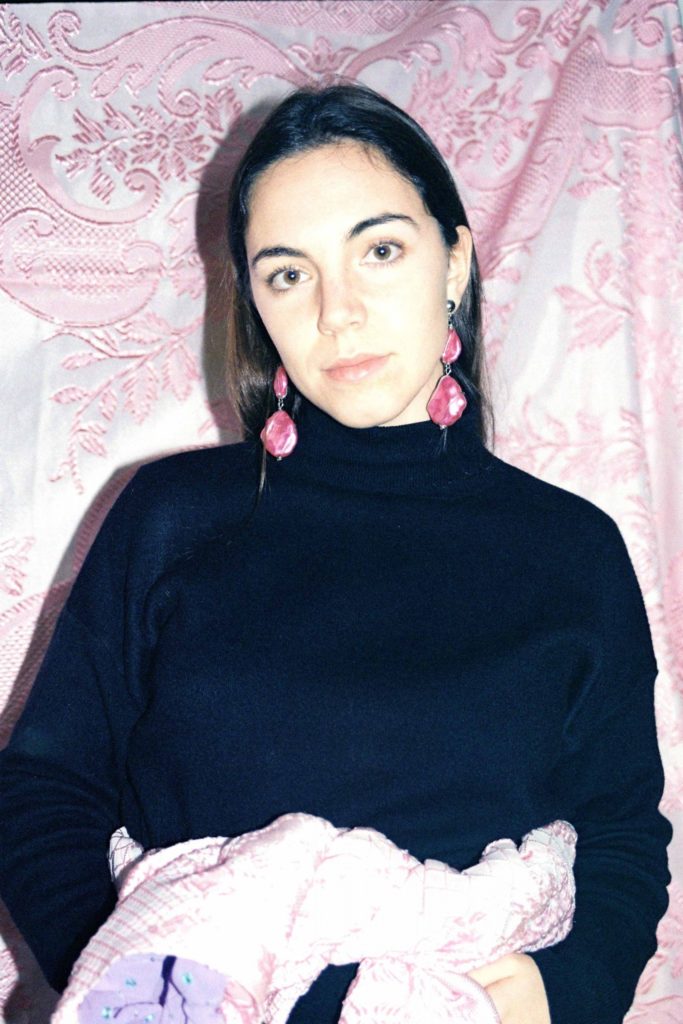 Based in sunny Portugal but firstly imagined in India, BÉHEN was founded by Joana Duarte with a lot of love and profoundly ethical principles, that favour time, skill, and durability. The brand operates sustainably, with the belief that fashion should be wasteless, and creates one-off clothes made of antique textiles. By collaborating with small communities of women around the globe, BÉHEN tell the tales of women who want to change the world, and together they give a second life to ancient treasures found in Joana's grandmother's closet, flea markets and antique shops all over Portugal. Open for more women to connect to the project, BÉHEN hopes to become a reference in women empowerment and a safe space to everyone getting involved. For this edition of ModaLisboa, BÉHEN presented "I WANT YOU SO BAD" FW21/22, a collection about all the realms and dimensions of desire. Mindblowing!
@behen.studio – behenstudio.com
Hi Joana! Tell us a bit about your background in fashion. How did you realise that was the right path for you?
The truth is super cliché, but I wanted to be a fashion designer since I was very young and before that a dolphin trainer so… I was definitely a creative child. But my dream of being a fashion designer was basically to work at a major fashion house, I never really wanted to have my own project because I knew how hard it would be and it was not something that a broke fashion student really aims for. I really don't know why I would want to be a fashion designer since that young, but I guess it started with my aunt who used to bring me from Paris cute books with dolls to draw some clothes over. Guess I thought it was fun! It is still super fun but in reality, I only found BÉHEN after an existential crisis during my studies while trying to find my role within the fashion industry and the world.
BÉHEN means "sister" in Hindi. Why did you choose that name?
I spent months looking for a name!! I wanted a name that reflected my journey in India, my grandmother, my family, Portugal and everything connected. One day I was really frustrated with no name in sight, and I asked myself a really basic question and I learnt that sometimes it takes time to understand that all our answers are closer to us than we think. So, I basically asked myself "what means the most for me?" and I thought my sisters. And it was like a click, not only my blood sisters but also all the other women with whom I am close with that are like sisters to me.
I believe it represents all the women, no matter where from, a safe space.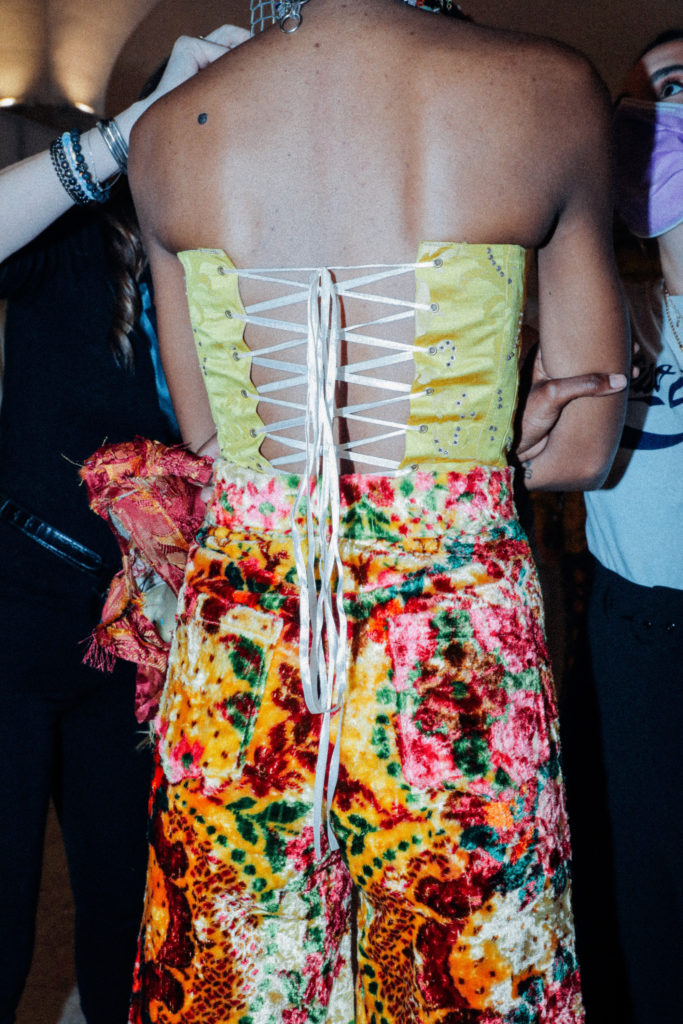 What major difficulties have you overcome founding your own brand?
I feel that we need designers to be transparent regarding this. Having our own project, it's a challenge and every day is a battle. I come from a humble family and I created BÉHEN with my savings. It is not easy, not at all! You need to learn new things every day and most of the time you just pretend that you know exactly what you are doing, when you clearly don't. I consider myself really ambitious and I tend to demand a lot from myself which can become quickly frustrating if you don't learn to distance yourself from the project. But it's a journey, and it's beautiful to see a project grow from nothing. I have a good support base, from family and friends and it's the best feeling in the world to share my path with them.
There is a whole story behind the clothes you create; from the fabrics you (re)-use to the conception of the clothes themselves, that are born from the union of women's communities from all over the world. We could say that Béhen is an experience that goes beyond fashion. Can you tell us more about how you develop the project and what is the message you want to send with your work?
BÉHEN's goal was always to promote the Portuguese craftsmanship while supporting women from all over the world. At the moment our pieces are produced in small women-run ateliers nearby Lisbon and we only work with antique textiles, mainly Portuguese. At the beginning most of our fabrics were from my grandmother's personal collection but today we buy from hundreds of women all over Portugal. Usually they are selling pieces from their trousseau or enxoval as we call it in Portuguese and have a deep emotional value. It is a gift for me to work with such beautiful treasures and to have my grandmother helping to choose the best hand-embroideries while teaching me all the tricks. For me, BÉHEN is nothing but love, lots of love for all the women from all over the world, who taught me so much, for my family who helps me unconditionality, for all the artisans, the skilled hands who embroider, their families, their love stories. I guess it's basically magic?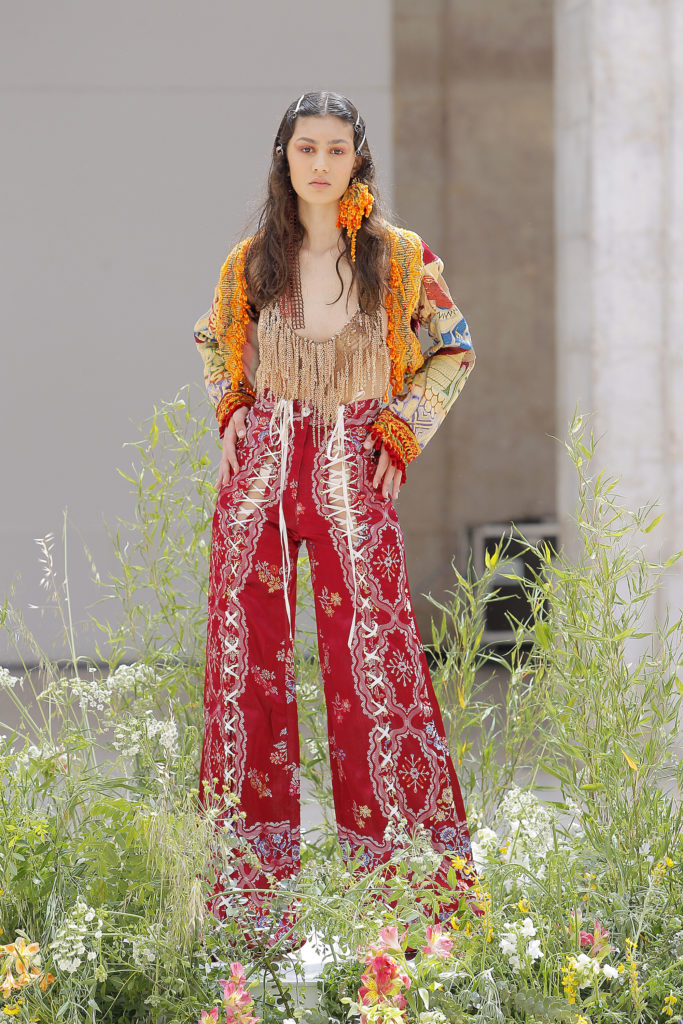 MODALISBOA has been such an important support for emerging Portuguese designers over the years. It is now a powerful #Community of Designers. What does ModaLisboa mean to you ?
It's a home! ModaLisboa believed in BÉHEN in its earliest stages and we would never forget that, it's like our godmother ☺ But is also a school, where we have the opportunity to experiment and to improve season after season.
How has it been this past year working through lockdown, and under so many restrictions?
We usually buy our materials directly from women at their homes or at flea markets / antique shops. Because of lockdown everything was closed so we needed to find a new strategy! WhatsApp was already key to our work, as we talk daily with women from all over Portugal but during the lockdown it was fundamental. Thankfully I invested in my network of sellers long before covid so when lockdown started we were ready to turn everything long-distance and covid safe ☺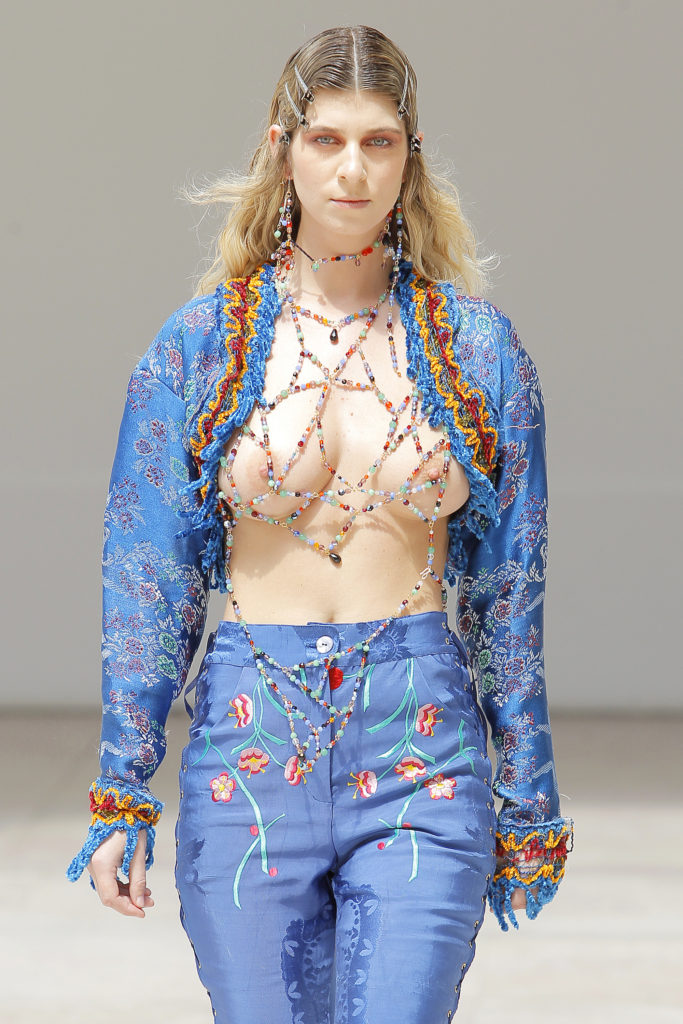 This season of MODALISBOA was 100% digital. Tell us about that experience.
I guess BÉHEN is destined to try different formats to present our collections!
In our first ModaLisboa we made a small presentation similar to a happening, then we made a proper fashion show, and now we just made a video! Maybe it was meant to be? Obviously, this time with the video, we feel we had more opportunities to better show our clothes compared to a show, but it was also more challenging. On another side, it is strange not having an audience and the feeling of community that is part of the show and also the adrenaline to understand the public's reactions. I feel it was important for fashion weeks to go 100% digital, fashion needs to continuously explore and to experiment.
You are very connected to the planet and nature, and definitely an agent for change in relation to how we produce and consume. What positive changes do you already see in the fashion industry?
There is indeed more awareness regarding sustainability and ethical production and thankfully there are amazing designers and other creatives who are developing new solutions and experimenting with new ways of producing clothes. Things are changing, slowly, but changing. People are demanding transparency and are asking more questions, but the real question is if it is enough? I don't think so. We have a growing problem with greenwashing and with "fake transparency" from major labels which is confusing the consumer and leading to unreliable information. I can however, imagine a good future for the fashion industry and I truly believe it can be possible to change the system and to create an international community that can contribute to a better world. if I didn't believe, I wouldn't create BÉHEN ☺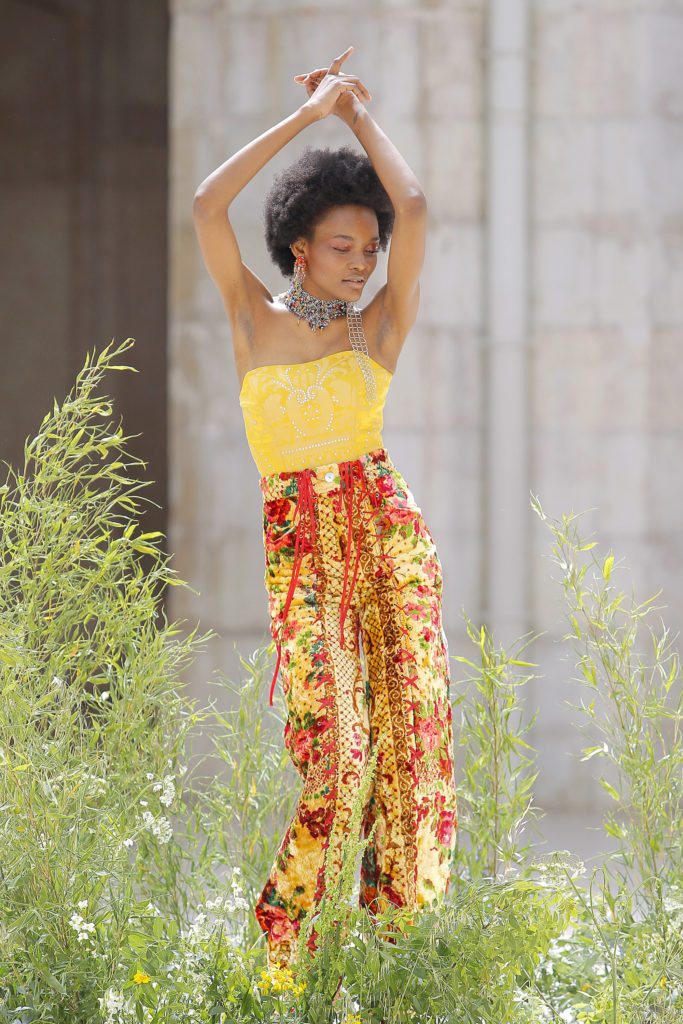 What has been the most satisfying moment of your career so far?
BÉHEN is a baby project so the truth is that every step and new accomplishments are most of times an "awe" moment. It's like a baby growing and every phase has its best moments and challenges. Looking back at the last months, it is satisfying to see myself growing as a designer and to gain confidence with my decisions and opinions. Also, feeling my grandmother's love for BÉHEN.
What's next for you and what do you look forward to?
For now, the goal for the next seasons is to focus on the Portuguese savoir-faire. To discover ancient techniques and to develop new approaches. Also, we hope to have more women connected to the project and we can't wait for BÉHEN to be a reference project in women empowerment and a safe space to everyone who connect with us.
CONSTANÇA ENTRUDO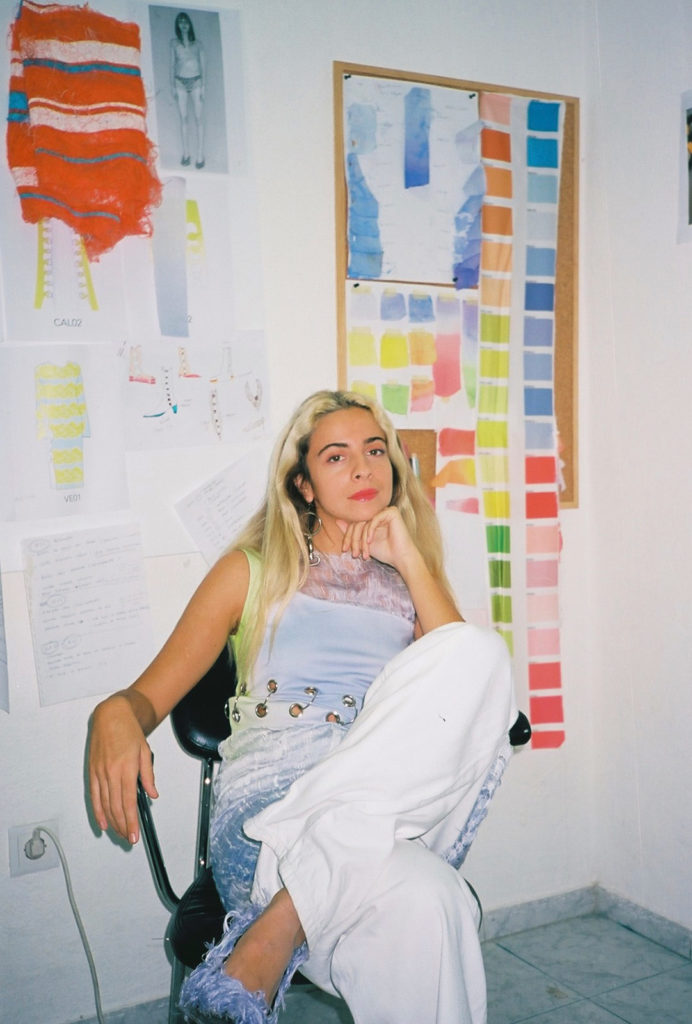 Born and based in Lisbon, Constança Entrudo graduated from Central Saint Martins in 2017 with a BA in Textile Design. She has worked as a designer for Balmain, Peter Pilotto and Marques'Almeida before spontaneously launching her own brand. A natural path for her. Known for combining handmade fabrics and bold graphic prints, Constança Entrudo has attracted attention from the likes of Suzy Menkes, who cited her fabrics as "high quality of handwork" on Vogue UK and many other press. All her pieces are created in accordance with her belief that making clothes is about the way we reuse flat fabric to a 3D figure form of the human body. At Modalisboa FW21/22, Constança Entrudo presented "THE WORLD WE LIVE IN: PART II, a universe of textile manipulation inspired by nature, experimentation and deep exploration.
@constanca_entrudo – constancaentrudo.com
Hi Constança. Tell us a bit about you and your background in fashion. When did you decide to become a fashion designer?
It happened very spontaneously. I studied Textile Design in London and that has always been the main focus of my practice. I guess I became a fashion designer because of my working experiences, all of them were in fashion houses.
You create colourful, gender neutral, ageless designs, unconstrained by any pre-existing rules. Can you tell us more about how you develop the project and what is the message you want to send with your work?
My process of creating a collection is very long. I spend months researching in libraries, archives… Then, based on my research, I start experimenting and exploring different materials and colours, trying to go as far as I can with them. I like to explore the boundaries of the materials and to play with the relationship between craft and technology. I guess my work expresses the freedom of the self and its inner doubts. It expresses the various layers we have inside of ourselves. Above all, I want people to take themselves less seriously. To be playful and interesting.
How was it for you to found your own brand? Was it difficult and what obstacles did you come across?
Again, it was something very spontaneous. I have presented my first collection while I was still working in industry. And kept doing it for a while until I felt I had to dedicate most of the time to my brand. There are loads of (daily) obstacles and challenges, obviously, but that's with anything, right? I try not to get consumed by them and I have a great team who helps me along the way.
MODALISBOA has been such an important support for emerging Portuguese designers over the years. It is now a powerful #Community of Designers. What does ModaLisboa mean to you?
Modalisboa means a lot to me, I have always had their support and I am very grateful for that.
Does Lisbon fashion scene play a major role into how you get the inspiration for your pieces?
That is a very tricky question. My work, as well as my thoughts, are an abstract collage of places, experiences and people that I have met or that I want to meet. Lisbon fashion scene surely makes part of that big "collage".
The new season of ModaLisboa is 100% digital, due to pandemic restrictions. Tell us about that experience.
I have to admit I am starting to enjoy it more and more. Somehow it ends up being more relaxed and allows you to have time to make everything how you want. The first time I presented my collection through a video, at London Fashion Week, I was a bit confused. My work is a lot about the textures and the material and that is something difficult to capture through a video. But I felt challenged and tried to work on new different ways to highlight my fabrics and their "feel". For example, we have made a Textile Book, that we have sent to many people, so they could feel the collection while watching the show. This textile book is something that I have been wanting to do since I was at university, so I felt so happy to finally be able to have the time to make it happen.
We never spoke so much about sustainability as we do today. What positive changes do you see in the fashion industry?
We have started that change in the past 6 years or so, and I guess the pandemic has just accelerated the process of making our industry more sustainable and conscious. I believe we are heading towards the right direction, I guess we just need to broaden our conception of sustainability. We speak a lot about environmental sustainability, but I guess this industry would be more socially sustainable if we would start being transparent about our references and inspirations. I feel we should be heading to a more collaborative future and perhaps because of instagram and the amount of information we have access to all the time, people end up referencing each other without admitting it. I think this only happens because we feel the pressure to produce more and more and we don't have the time to think about what we are actually doing. I speak for myself, if there is one good thing I take from this pandemic is the realization that I do need to take time to think about what I am creating.
What has been the most satisfying or exciting moment of your career so far?
I have really bad memory so the most recent one was when our Collection Textile Book arrived at the studio.
What's next for you and what are you looking forward to?
2021 has been exciting so far, a lot of new projects from different fields. I am looking forward to share them with you.
HIBU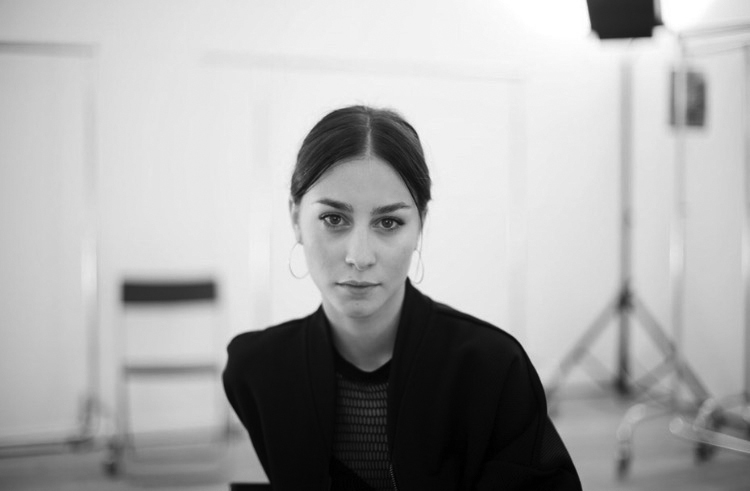 HIBU is a Portuguese brand founded in 2013 by Marta Gonçalves, that creates genderless pieces, crossing multidisciplinary references and a minimal deconstructed aesthetic through a relaxed approach. For ModaLisboa FW21/22, HIBU presented a fresh, playful & experimental collection celebrating the Motto "Dont take yourself too seriously". We loved it!
@hibu.studio – hibu-studio.com
Hi Marta. Tell us a bit your background in fashion. As a child, what did you want to be when you grew up?
Hello 🙂
Since I was a little kid I always felt connected and attracted to textiles and drawing. I had a particular taste in clothes and liked creating outfits for myself. My grandma Esperança was a seamstress and my grandma Antónia always had a passion for drawing, so with Esperança I did a lot of clothes for my dolls and with Antónia I drew a lot of paper clothes that we could put on top of paper dolls, creating different looks. I still have my grandma's Singer machine from the 60's and I still think it's the best machine to work with.
Both of them always told me I was going to be a fashion designer, but during elementary school and highschool I thought I would be happier doing set or interior design. I grew up in the suburbs of Lisbon, close to Sintra, where there wasn't so much going on, but later, as a teenager, I went to Antonio Arroio Art School in Lisbon where I studied Realização Plástica do Espectaculo, wich included set design and textile design related to costume design, and during this time I started to meet and hang out a lot more with other creative people, broadening my horizons, and I realized I wanted go on and study Fashion and Textile at University.
WHO and FOR WHO is HIBU in a few words ?
HIBU is me. HIBU comes from my own experience and personal vision mixed with the work and ideas of some incredible friends and people I'm lucky to get to know. HIBU is a collaborative, multidisciplinary brand that I truly believe can be for everyone.
How was it for you to start your own brand? Was it difficult and what obstacles did you come across?
It was difficult, it's a difficult process even today, we're always learning.
I feel that the most difficult part for young designers is developing a connection between the brand, the public, buyers and the industry.
In Portugal we have a really good quality textile industry that works with a many well-known international brands but there's not a lot of initiatives or support connecting this industry with young Portuguese designers. Learning how to develop production and working with factories and suppliers can be a very big obstacle.
You create unisex clothing crafted from 100% upcycling cotton. How has your work evolved over the years and what is the message you want to send with your work?
I believe clothing doesn't have to be gendered and I try to reflect this as much as possible with HIBU.
We don't work exclusively with 100% upcycled cotton, but for the most part we try to as much as possible. One of our goals is to have a contemporary approach to day-to-day clothing and pieces that are intended to be durable and comfortable, so it's important for us to work with good fabrics and as much as possible with Portuguese textiles and production, organic cotton, upcycled materials and even dead stock.
In the beginning it was not so easy to find different materials we wanted to work with and it was also something we couldn't always afford that easily. This was the main reason I decided to take a brief pause with the brand a couple years ago, I felt I needed time to reorganize and find the right suppliers and partners in the industry to take the brand the next step forward.
MODALISBOA has been such an important support for emerging Portuguese designers over the years. It is now a powerful #Community of Designers. What does ModaLisboa mean to you?
ModaLisboa means a lot to me, it was where HIBU started many years ago, at Sangue Novo platform, so they were the first organization believing that HIBU had something special to offer and after some years they received us again and I feel they always truly believed in us.
I think ModaLisboa has evolved a lot and creating ways to connect with international platforms. This is super positive for the designers because it's a great way to help show our work internationally and reach a bigger audience.
How connected is your work & style to Portugal & especially the Lisbon fashion scene?
I think that we are privileged as we have such a great textile and clothing industry in Portugal so close to us, and I'm very happy that I'm able to show work that is 100% made in Portugal. I also always love to connect the brand to some traditional processes and crafts.
Lisbon is growing so much and so fast, with a larger international community moving here and I think this has changed a lot over the last few years also for the fashion scene but I think there are sensibilities and styles that are unique to us. I feel there has been an interesting artistic boom and new ways of different artists working together. I see HIBU as a multidisciplinary brand and I am constantly looking to connect with new people, different practices and forms of working and Portugal has a great variety of talented interesting people and exciting projects going on.
How did lockdown and restrictions impact you & your work? What did you learn about yourself ?
I feel this whole situation caught all of us by surprise and everything has been new to us and forced us to adapt and figure out new ways of working and being creative.
During the first lockdown, being at home and trying to adapt I decided to start making HIBU masks, designing and producing some myself for my friends and family. To my surprise there was suddenly a huge demand and people wanting to buy more and it was quite a big process and work doing this all myself but in the end I felt I was doing something useful and we were able to donate a lot of the proceeds as well as masks to several charities and institutions. Ironically this connected the brand a lot of new people. I think during this time a lot of people in Portugal started to be more connected with what was being made here and wanted to support Portuguese artists and designers.
To be honest, through such a terrible situation I can say that during this time a lot of positive things have come to happen to the brand and I'm fortunate to have been working nonstop on several different projects.
I learnt to believe a bit more in my work, not be so negative and chill more.
The new season of ModaLisboa is 100% digital, due to pandemic restrictions. Tell us about that experience.
It was a super interesting experience.
The pandemic forced us to create more online content and video work. I have been fortunate to have a really great team of people and friends that I always work with and have helped me a lot.
For ModaLisboa, since this edition was only online I felt that our big challenge was to keep people interested in seeing what we have to present and specially trying to have the same impact as we would with a normal show. For me the Wow feeling is easier when you see something in real life and I wanted to do something that the public could say was special or that they could remember.
I wanted to do something more related to a fashion film and not a runway show and ModaLisboa was open to our ideas, letting us do what we felt was best to define our aesthetic and vision.
It was, without any doubt, a hard process, because we had to work on the story of the film, write the script, explain how we want the film to look and be edited, at the same time we were working on the new collection. There were a lot of different teams involved and the final result ended up really cool, so we were quite amazed and super happy because the challenge of working with so many people almost without connecting with them physically was challenging but we were really happy with the result.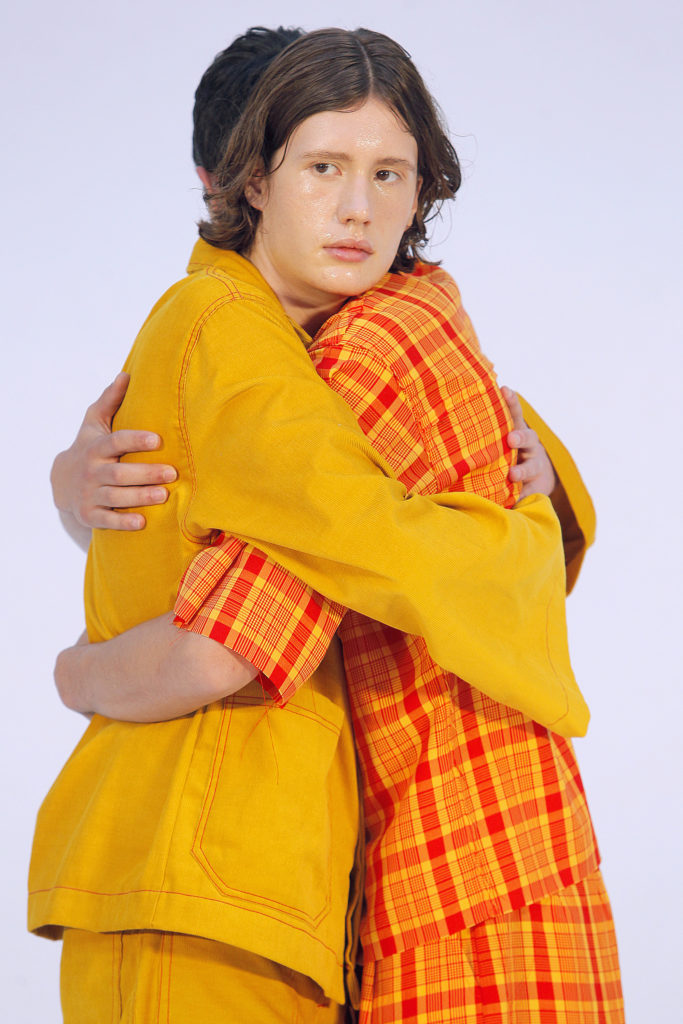 We never spoke so much about sustainability as we do today. What positive changes do you see in the fashion industry?
Even if fast fashion is still predominant in this sector, I feel that people are more and more aware that we have to change our habits and this is really positive for small brands because we can focus on creativity and individuality, trying to find ways to avoid production waste and less environmental impact instead of mass production of disposable clothing that lasts a season.
Slow fashion is an alternative to mass production that encourages us to be more aware of the products we consume. Our point is to regain a connection with the way in which clothes are produced and to value the diversity and richness of our traditions and to have a compatible time for the responsible creative and productive process. Above all, it's related to the concept of being and not just having.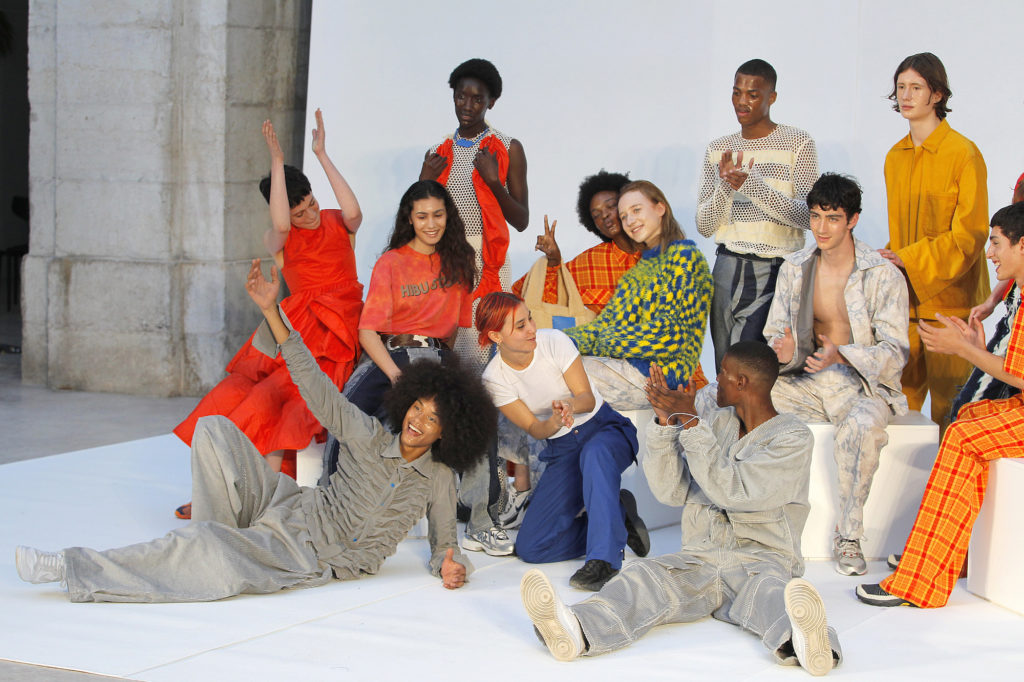 What's next for you and what do you look forward to?
We are working on launching our summer collection. We just finished the video for the campaign and I am really happy. We hope to see HIBU grow further outside of Portugal and connect with more people. I am also looking forward to being with friends, being able to eat out, have a drink and be able to travel again.