Text and Interview by Sofia Malatesta @sofia_malatesta
Masha Rudenko began her path into fashion at a very young age. "Growing up" in an exciting and original environment among textiles, colors, artistic crafts, amazing locations, fashion designers and creative industries – clothing, footwear and leather markets, it quickly became clear that she could test her visionary approach in the multidisciplinary fields of art and exhibitions. Romantic, sensitive, gentle, curious and always on the lookout for new experiences. Masha lived in different cities as she followed opportunities for personal and professional growth. She currently lives with her husband, screenwriter, film producer and movie director David Marconi, in Tuscany, Italy.
In candid conversation, Masha spoke to Curated by GIRLS about race, class, culture, values and how art, fashion and social media are creating positive changes – self-acceptance, new body standards and diverse ways of living and working. (The interview was done while she still lived in Los Angeles.)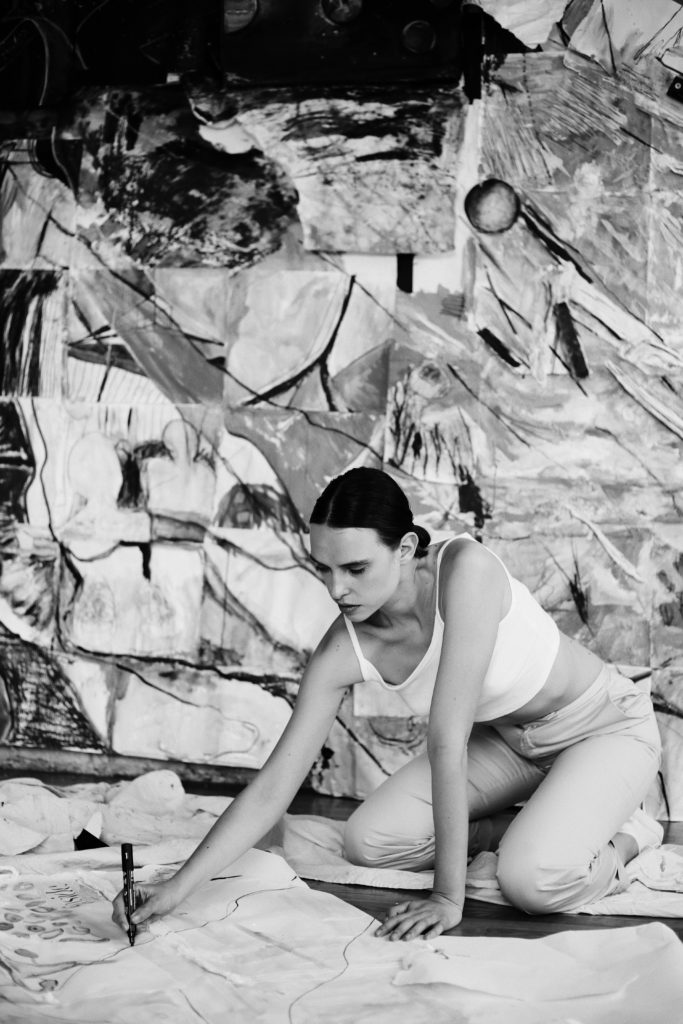 You grew up in a small city Taganrog (Russia) then you traveled the world and now you live and work in L.A. – How did you find that transitions?
I grew up in provincial town and was discovered as a model at the age 17. I then I signed a contract with an agency in Moscow, soon after with Paris, Milan, London, Tokyo, Barcelona, Hamburg, Berlin, NYC and LA. I never dreamed of living so far from home but I guess the Universe had bigger plans for me. Then four years ago I made a transition from Fashion to the Art and decided to live between LA and NYC. Presently I'm full time in LA. I had a great experience in NYC, learned so much and got what I needed to continue my art work on my own. I get from LA what I need now. The most is peace of mind, nature, time and space to work on my projects. But, I also love Europe and it's culture, values and way of life, so maybe one day I will end up there.
And, how has your life changed since then?
Imagine a life without cellphones, computers, internet and a limited amount of clothes. Growing up in Russia, we didn't even have a land-line phone at my home. My first mobile was when I was 18 and laptop a bit later. Now it feels like I'm talking about the Stone-Age, but for me it was the best childhood and simple way to grow up when I think back on it. When I went to Moscow it was a massive change, and then going to other counties was a such a mind-opening experience. I was a young girl, independent of my family and traveling alone for the first time. I became a chameleon as I adopted to different environments and cultures and did my best to understand and respect the people I visited. Meeting people from around the world stretched my mind and accelerated my personal growth.
Did that affect your perception of self? The US has such a pronounced hierarchy of race and class…
Yes and no. I learned from childhood to respect people from any race and class but it was a bit overwhelming to actually experience it. Growing up in a small city and then jumping into a fish-tank of NYC definitely kicks you in the ass to work harder, rely on yourself and fight for the American dream.
Do you think living in the US changed your perception of Russia?
I love Russia. It did change so much after I left. Unfortunately I've meet so many people in the US who've never been in Russia. They think it's dangerous and a "no go zone" because of the media and propaganda. Russians love foreigners. We are amazing hosts. I visit with my American boyfriend every year and he loves it. Believe me when I say, you won't be followed or kidnapped by the KGB/FSB. You will also make so many friends you will want to come back to visit every year.
You become a model at a young age – how did that affect your perception of yourself?
When I was at school I was so tall and skinny, my classmates made fun of me . There where fights. Physical and mental. Because of that I withdrew into myself and toughened up. When I was discovered as model it was a surprise as I never thought of myself as beautiful. When I saw some images from a photoshoot I'd done, I was told by the photographer and client I looked amazing. The camera made me look different then what I looked like in real life. It was strange, as if there was a special filter. Even so, I compared myself to other models in magazines and wished I looked like them. My reality and the beautiful illusion of fashion confused me because even though I was in those pictures, I felt it wasn't me, it wasn't how I looked everyday or how my friends or family saw me. I understand the suffering of women who look at those magazines and want to look like the models, but it's all a photoshopped illusion. I try to take myself how I am today but its not always easy because of the social media.
Do you have other ambitions outside of modeling?
My priority today is my art. Drawing helps me to find my mental state of calmness and tranquility. It is a feeling of being freedom from worries, fears, anxiety and stress. I started to explore all forms of art: sculpture, performance, photography, oil paintings and video. My recently artworks are based on paper-cutting – the art of paper designs. Today, I can't imagine not doing art.
How does social media affect beauty standards?
I believe that social media really has a negative effect of mental health. Unfortunately we compare our lives and bodies with others during overload on information on social media. Even tho there is influencers who promote an idea of Self Love and uniqueness, you can't avoid or stop what your mind is taking from other accounts without you even realizing that .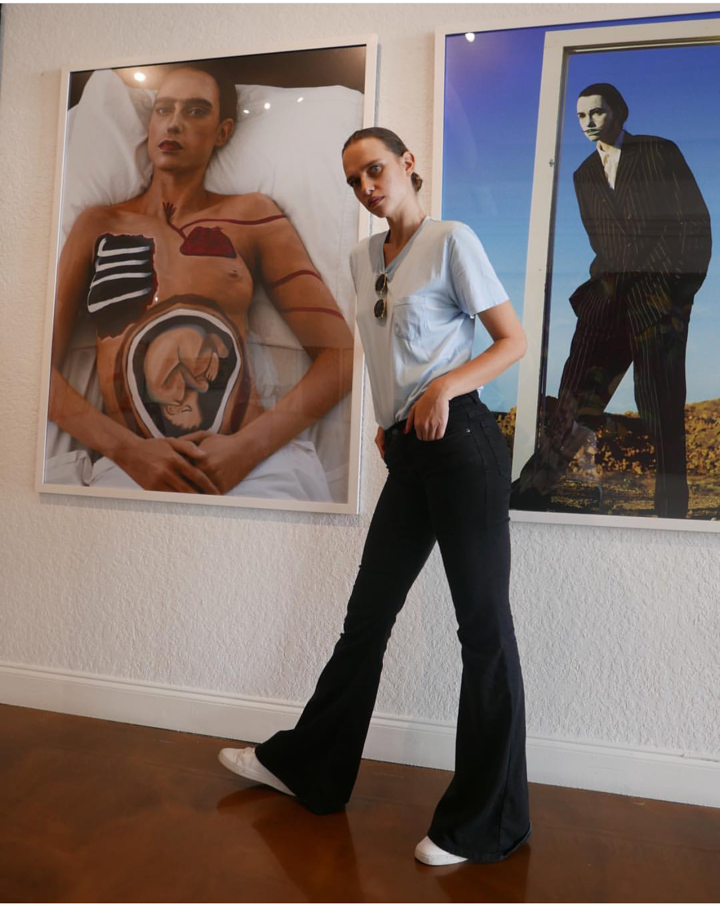 Nowadays more and more girls spend a lot of time via social media. Do you think it helps to diminish the problem of self-acceptance?
I am starting to see now that a lot of women are celebrating who they are and this is great. I'm happy to see that people starting to find "Just Beauty" is boring. I hope people will get bored of people in beautiful outfits soon and there will come more art and self expression. I love fashion but thinking everyday what to wear for the Selfies for many years it's gotta get boring. I don't wanna sound that I talk bad about fashion. My point is an Upgrade for our life, as we upgrade our phones we should up-grate our jobs and lifestyles. Corona virus was a good lesson for us to look outside of the box and think: 'What next?'
Tell Curated by GIRLS community how do you feel to be back to using instagram?
I have mixed feelings about it all. I know how good I feel when I'm not on instagram. I notice I have anxiety-spikes when I'm on it because I try to change myself to fit in. It's that need for constant affirmation and approval. Its fun on occasion because I can see my friends and what others I follow are up to. I can find a certain amount of inspiration but then it comes to a point: why do I need to see what everyone is doing everyday? I'm wasting my time here, it's being sucked into this surreal electronic world where its all stage-managed. I find myself having to overthink on what to post or to make sure that I don't offend someone's hash-tag feelings. In the end you can't really express yourself because we worry too much about what others are gonna think.
What do you hope and dream for in the future?
Well, I'm very worried about what's going on in the world right now. As I am in America, it's very hard on me to see how people are confused and having a hard time to deal with the situation that we are in. I really hope that we will pass this difficult stage and my dreams and hopes are to see happy people again in America and in every other country I do what I love and my art helps me to keep my head positive and in my personal life all my dreams are coming true. So my dreams and hopes are the peace in the world.