@thandiwe_muriu / @nowgalleryse10
The colorful photographic work of Kenyan artist Thandiwe Muriu will be shown as a part of Human Stories: The Satirists – a group show of emerging talents exploring the concept of satire through photography, and particularly how it is used to develop and nurture interconnected, diverse identities, gender, race and class. The exhibition will take place at London's prestigious art, design and fashion hub NOW Gallery at Greenwich Peninsula, from 13 October-13 November.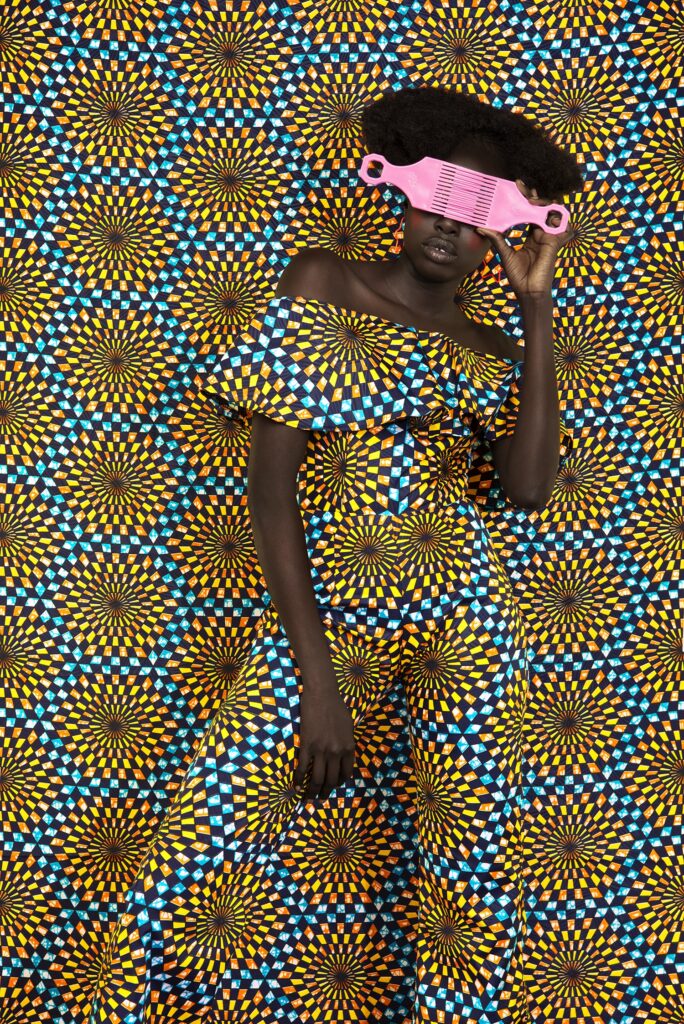 As a female artist operating in a previously male-dominated field, she is passionate about celebrating and empowering her fellow women. In her CAMO series, Thandiwe showcases Africa's unique mix of vibrant cultures, textiles and beauty norms. Through her work she celebrates her African heritage and tackles important issues such as identity and self-perception using the rich colours and vibrancy the continent is so well known for. Drawing inspiration from African textiles, everyday objects, and traditional hairstyles, Thandiwe explores how the individual can lose their identity to culture. In her work she not only explores who she is as an artist, but also as a black woman.
Thandiwe was self-taught but her father provided the initial inspiration having raised a family of four daughters and keen to buck the patriarchal assumptions. Thandiwe's father taught them practical skills like how to change the tyre on a car, how to barbecue and, most significantly, how to use a camera. When it came to choosing a career she was encouraged to follow her passion for photography as for her it was the "perfect blend of science and art".
Inspired by a collection of Vogues she discovered in her sister's room, Thandiwe went into commercial photography, which in Kenya is male-dominated.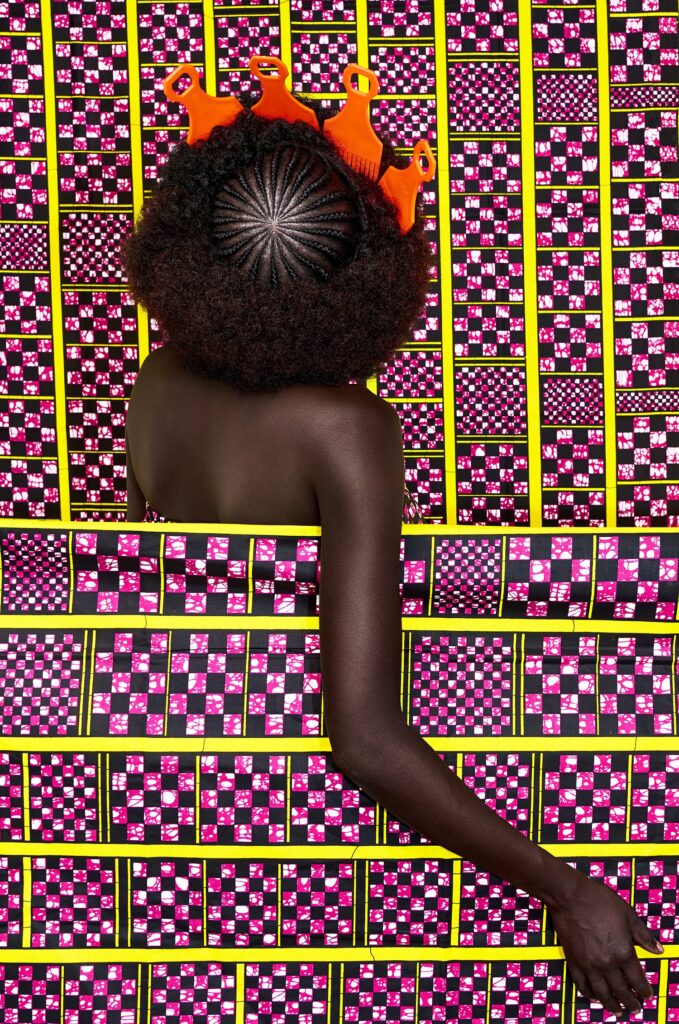 I'm small, I look very young and so oftentimes the biggest thing I would experience is people dismissing me. I would walk on to the set and people would talk to my assistant who was male, assuming he was the photographer rather than me.

Thandiwe Muriu
Traditional, vibrant fabrics play a central role in her photography, closely followed by her passion of exploring African beauty and historical and traditional hairstyles. Revisiting hairstyles her ancestors used to wear and giving them a 21st century makeover, Thandiwe uses hair as a tool to connect with the past and the present of her culture, asking important questions about what symbols of beauty have become almost obsolete? She repurposes found objects ranging from soft drinks cans to tea strainers, clothes pegs and other objects to celebrate the innovative way everyday objects in Kenya are repurposed for other uses.
Human Stories: The Satirists from 13 Oct – 13 Nov 2022 at NOW Gallery